Diagram Views
Visual Walkthrough: Twitter's new "Dashboard" Interface for Businesses
Doug Miller
#Inbound Marketing
,
#Social Media
Published on July 5, 2016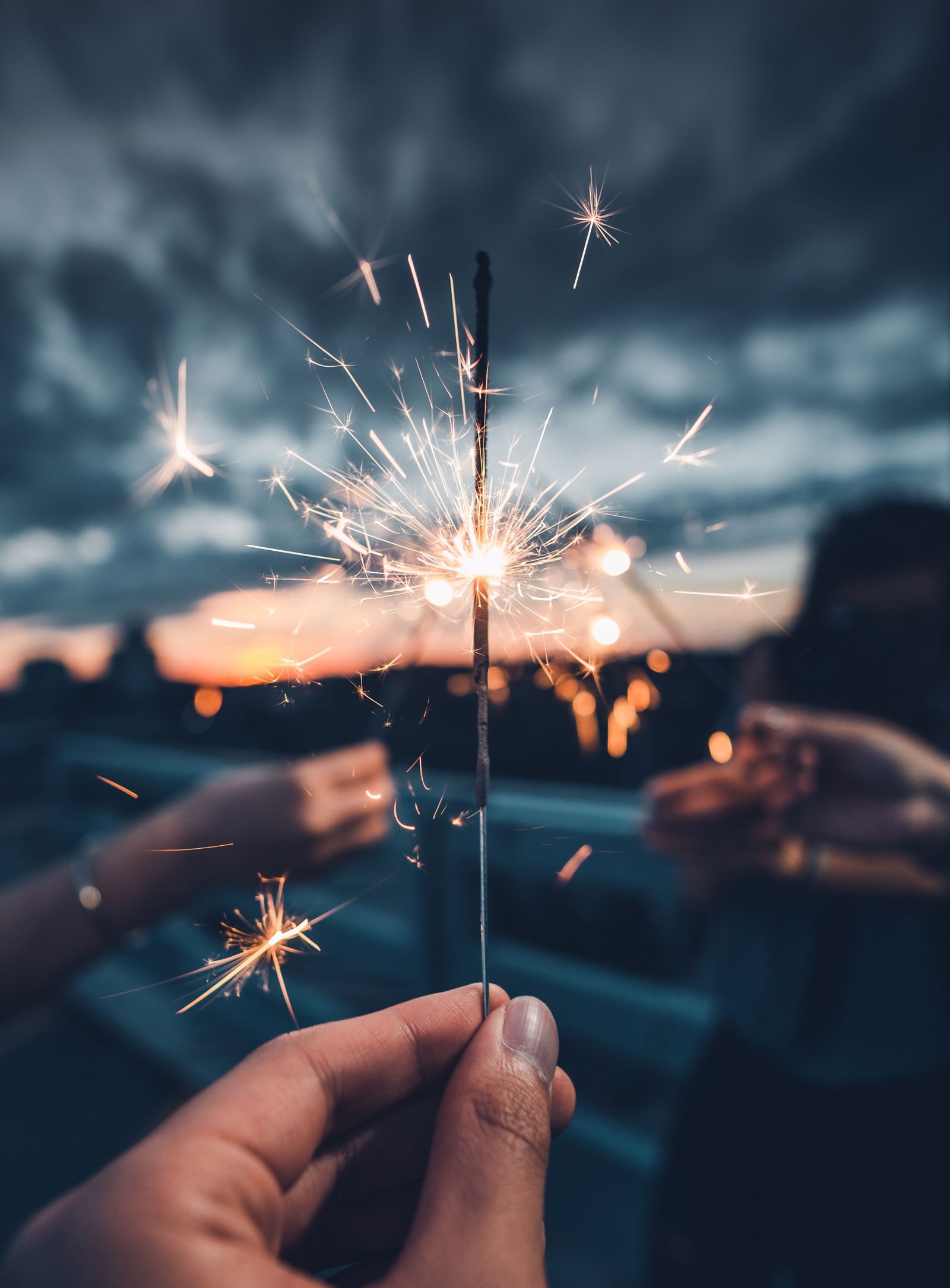 We offer our thoughts on the new Twitter Dashboard for businesses and whether it will be a tool that will replace third party social media management tools.
Twitter recently released Twitter Dashboard, a new interface for businesses that is designed to help them connect with their communities. Does it succeed? We went through the on-boarding process recently for our own Twitter account, and we wanted to share our experience. Let's dive into the virtual unboxing of the newest in Twitter's efforts to stay on top of social business communications.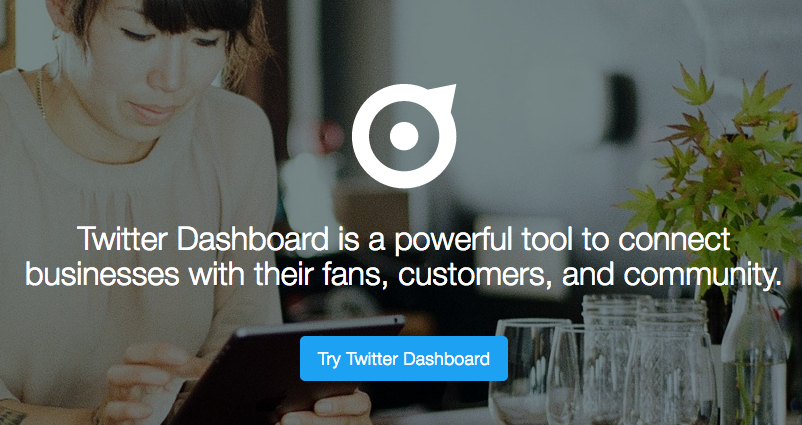 There have been a many changes in Twitter since its early days. We've talked a bit on this blog about why it might still be a valuable place for your business to use your content to add value to your communities, and we also regularly write about the value of using tools like HubSpot to keep tabs on digital social conversations and connect those activities to your social business efforts.
In many ways, Twitter's new offering represents what might be percieved as an early attempt on their part to reclaim some of the market that tools like HubSpot have built around Twitter's platform. It remains to be seen if these efforts, which are still in their early stages, can grow and mature in a way that will convince business users to change their behavior and abandon their third party marketing automation platforms (MAPs) for more native tools.

When you first agree to try Twitter Dashboard, you're taken through an onboarding process that begins with a series of forms where you self-identify some attributes for your business (a process that is very reminiscent of what it looks like for a business to build a Facebook page).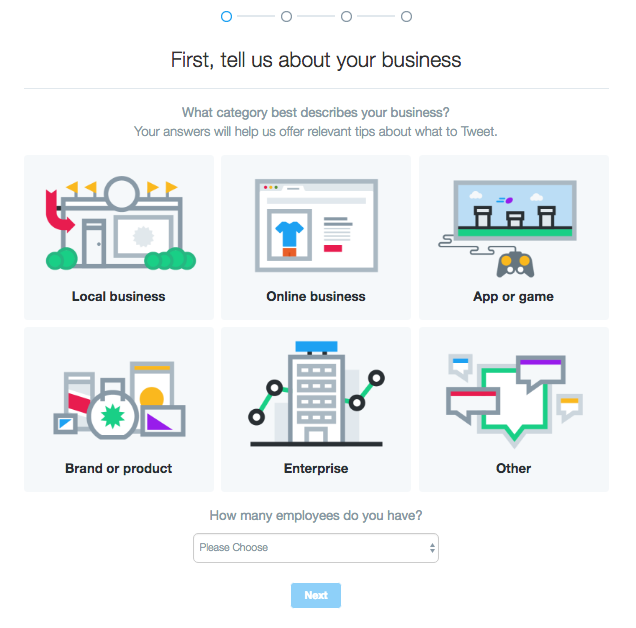 The assumption is that your choices here will impact the "custom recommendations" that are a natural value addition for Twitter's effort to bring businesses back to its servers to manage their Twitter content and communitiy management. There isn't a whole lot here to indicate exactly how these choices will impact you or if it will be possible to change these choices in the future, but most businesses should find themselves in at least one of these categories. Selecting "other" doesn't allow for any further advanced qualification that we could see. You are also required at this stage to identify the size of your business. Again, there is no indication how choices here might impact the experience moving forward, but this is clearly a data point Twitter wants to assemble about their business focused customers.
Building Your Custom Feed
After entering the Dashboard tool, it asks for you to enter in some terms to create a custom "feed" that is designed for monitoring conversations about your business, account, and relevant terms. Here, you can place competitors you don't want to follow, industry trend words, hashtags, and more. Twitter also gives you the chance to peek into how it relates other content to you here by offering up some recommendations of words, accounts, and tags to add or exclude.
The exclusion is a good feature here, and though there are other places inside Twitter itself (and certainly through other third party tools) to create dashboards of key terms to monitor, direct access to Twitter data seems to be a benefit in this situation.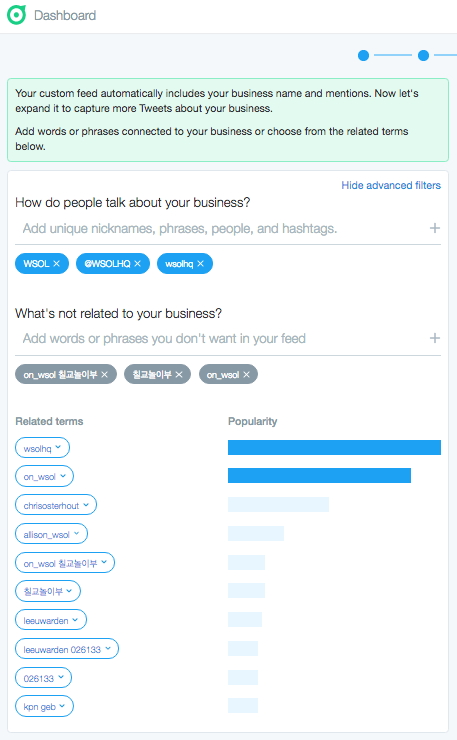 Your New Home Screen
Once you have selected the desired terms and accounts to include and exclude, you are taken to your Dashboard "Home" screen, which is essentially just a normal Twitter feed, except that it is a custom feed that you have created. Next to the Home tab, there are two other clearly marked tabs at the top level: "Create" and "Analytics." The Home screen also provides access to the two other "views" most familiar to Twitter users as well: "Your Tweets" and "Timeline."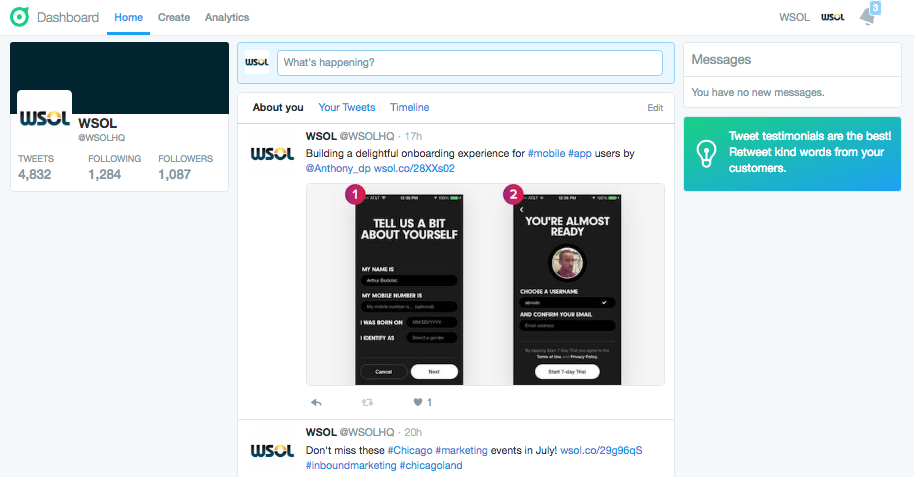 You'll also notice on this home screen that Twitter's custom recommendations begin to appear along the right rail (though these early recommendations don't seem very custom). We assume these recommendations will change from time to time with each subsequent login.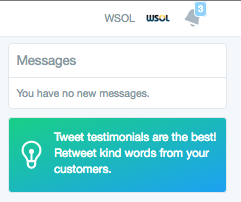 Perhaps the most blatant move toward grabbing back some activity from business users away from third party social media management tools is the "Calendar" feature available in the Create tab. Here, a business user can create a native tweet (and upload pictures and videos natively as well) and schedule those tweets to go out at a particular day and time, with a "content calendar" that provides a full view of the coming months.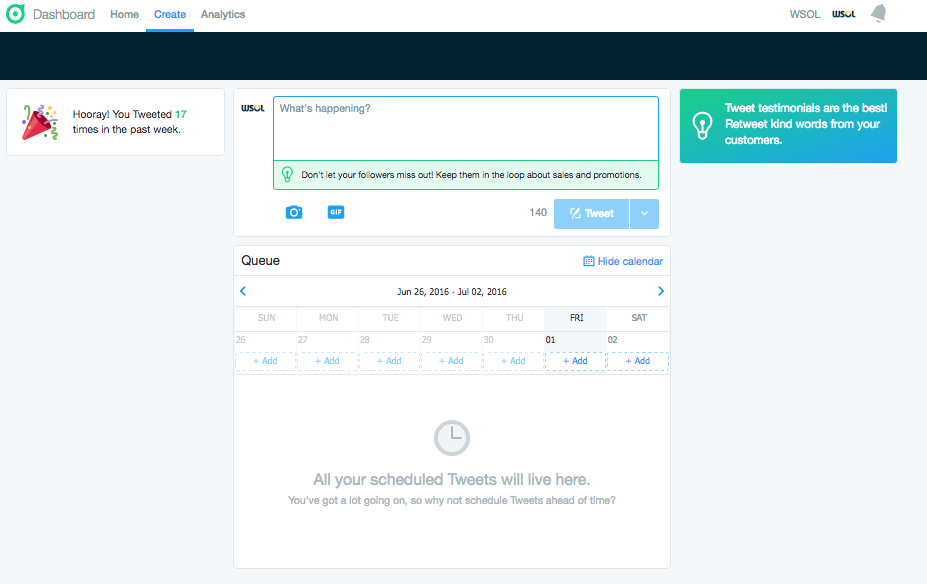 Clearly, this is an early-stage tool, and it lacks the sophisitication of many of the third party tools that have emerged on that marketplace, but in many ways, that simplicity coupled with the power of native uploads gives it an advantange that could be capitialized upon if Twitter doesn't give up too easily on this initiative. It's also worth noting at this point that what we're walking through here is the desktop app - there is also a mobile version for iOS, which could also give Twitter an edge.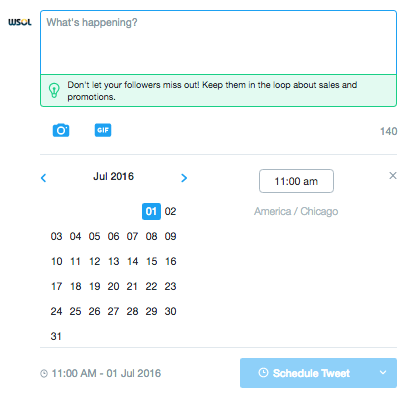 The third tab in the Dashboard tool is perhaps the most perplexing, because, in a way, it competes directly with another native Twitter tool, the interface available at analytics.twitter.com. Likewise, Twitter's recently released "Engage" app for iOS performs some similar functions for understanding engagement. If Twitter is to build the confidence of business users up in their native products enough to entice them away from third party management platforms, they'll need to streamline their approach and make it clear which tools are the most advantageous in which circumstances.
Aside from the card-like design of the interface, there isn't much new about this section that many business users won't already be familiar with. The only exception is the relative increase in prominence of the metric around "profile visits."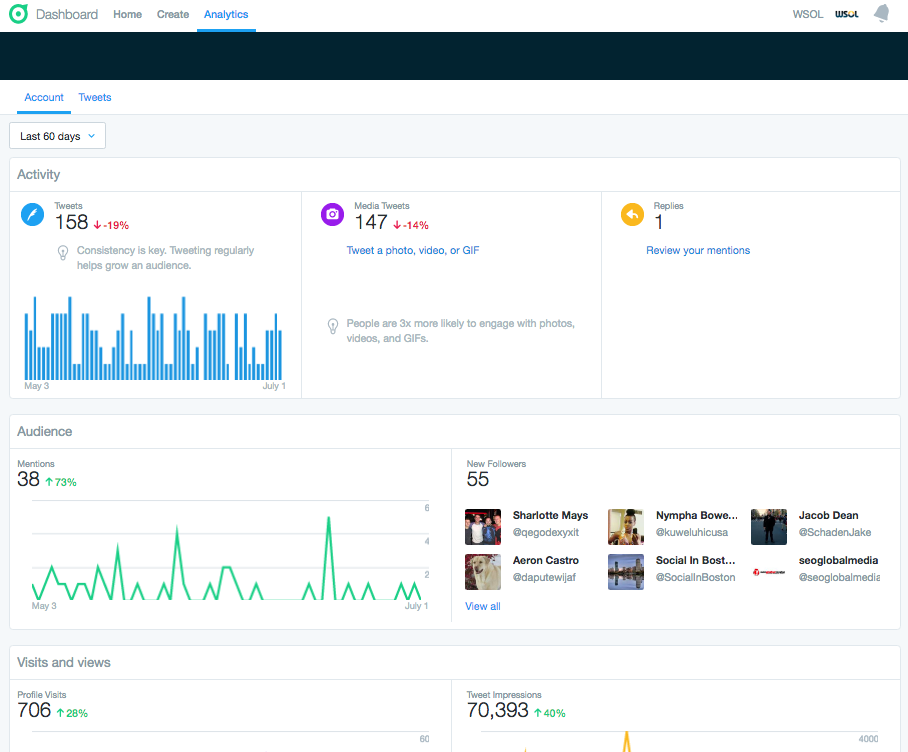 More views on familiar data: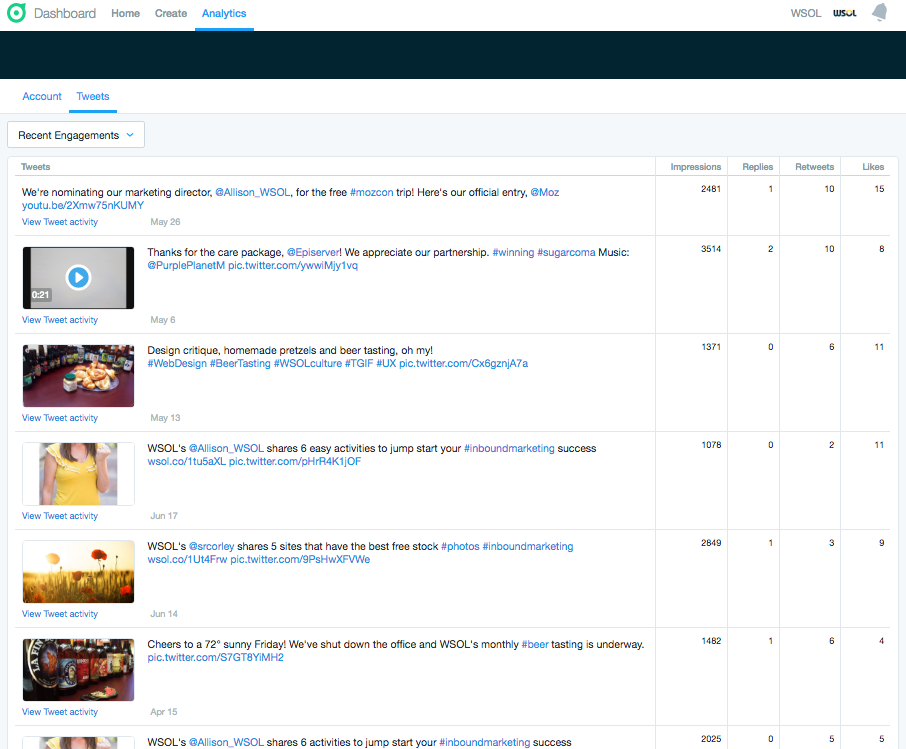 When you click on "View Tweet Activity" in this view, you are taken directly to data that comes from analytics.twitter.com about a particular tweet. In fact, that site loads in a new tab of your browser, with the individual tweet data loading in a modal window on that page. We didn't map out the experience for this in the mobile app (although we may look at this closer in a possible future blog), so it isn't clear if the iOS app would launch a mobile browser at this point or prompt a download of the "Engage" app.
In any case, it's worth noting that Twitter Dashboard provides direct access to the ability to spend money to promote a particular tweet very easily, a feature I'm sure was fairly close to the top of the list of motivations for developing some of these new offerings.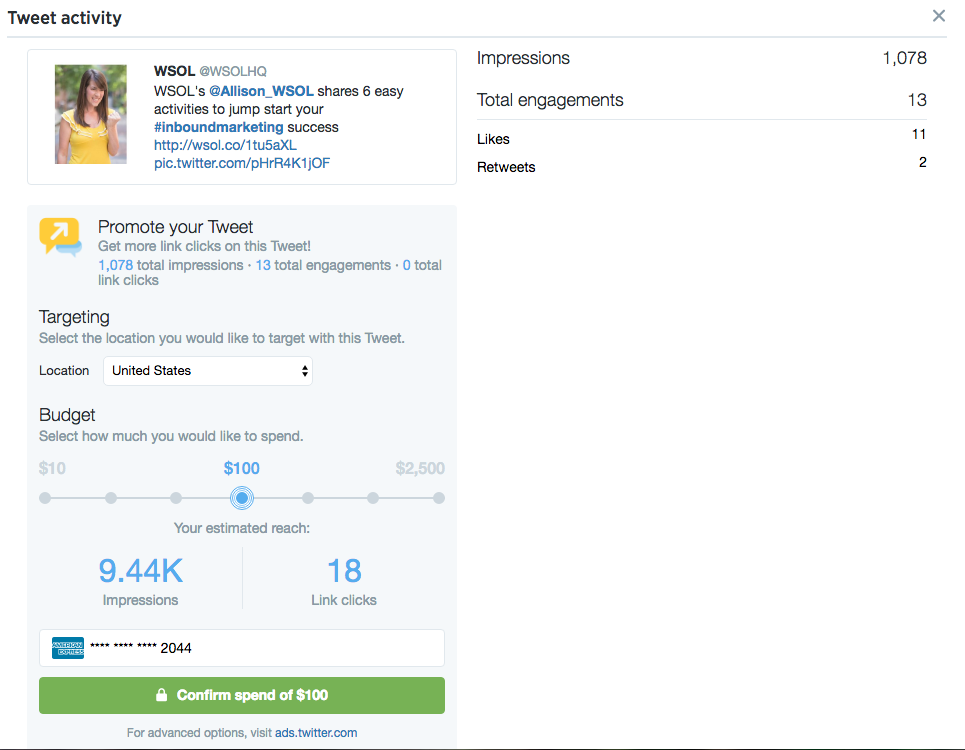 Will these tools have the staying power to convince business customers to change their behavior? So far, that remains to be seen. Clearly, there are advantages that Twitter has when accessing its own data that could give it an edge over any third party platform or tool, but those tools also usually allow businesses to keep track of their other social efforts as well.
Would you be willing to spend more time in a native Twitter tool to do your business-related Twitter activities? Do you have any other thoughts about Twitter Dashaboard? Let us know in the comments.
Need some help figuring out how to make your content more effective in digital social contexts? Be it paid or organic, we can help you with that. Feel free to contact us to get started.
Have questions or comments about this post? We'd love to hear from you.
Related Posts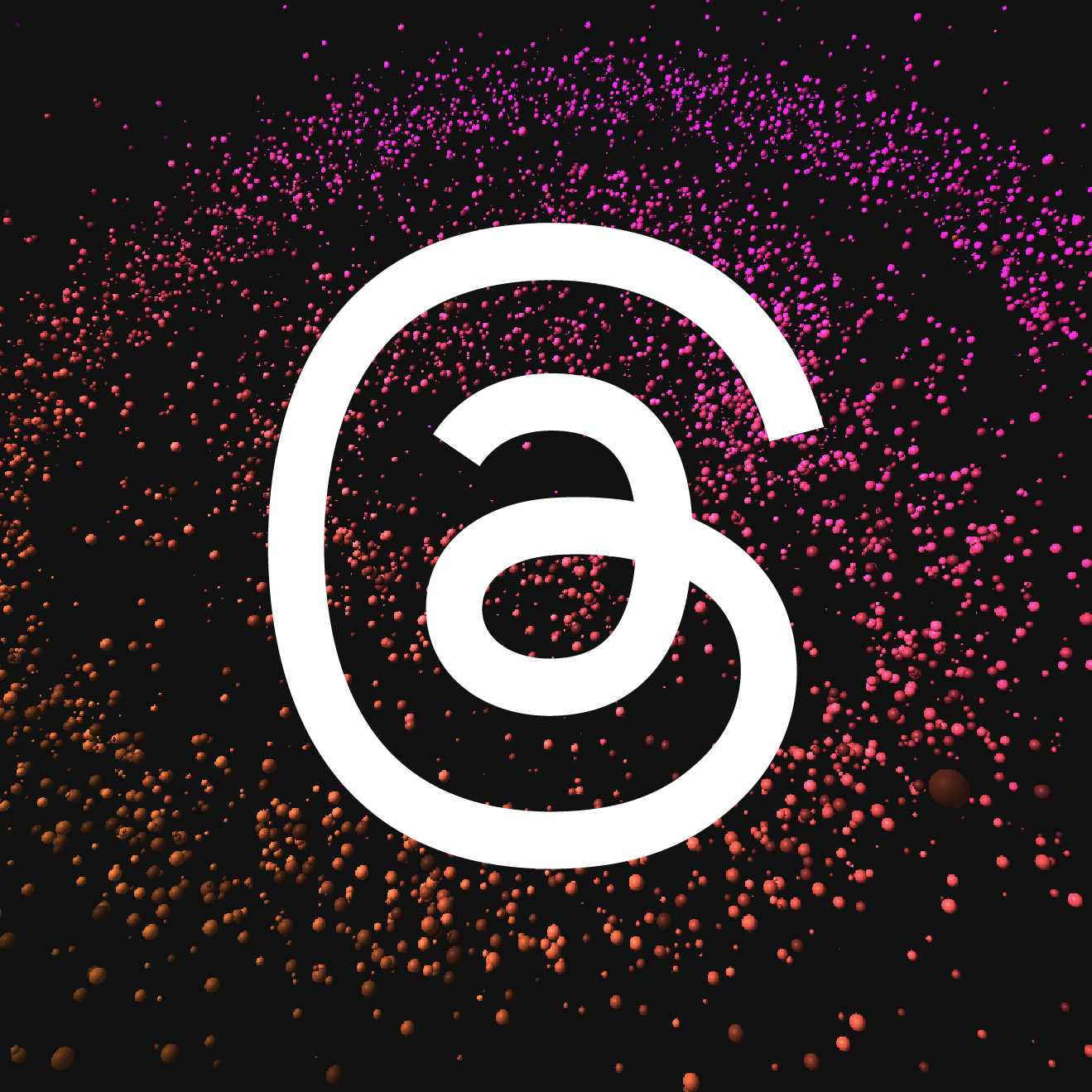 As Threads gains more market share, will it overtake Twitter?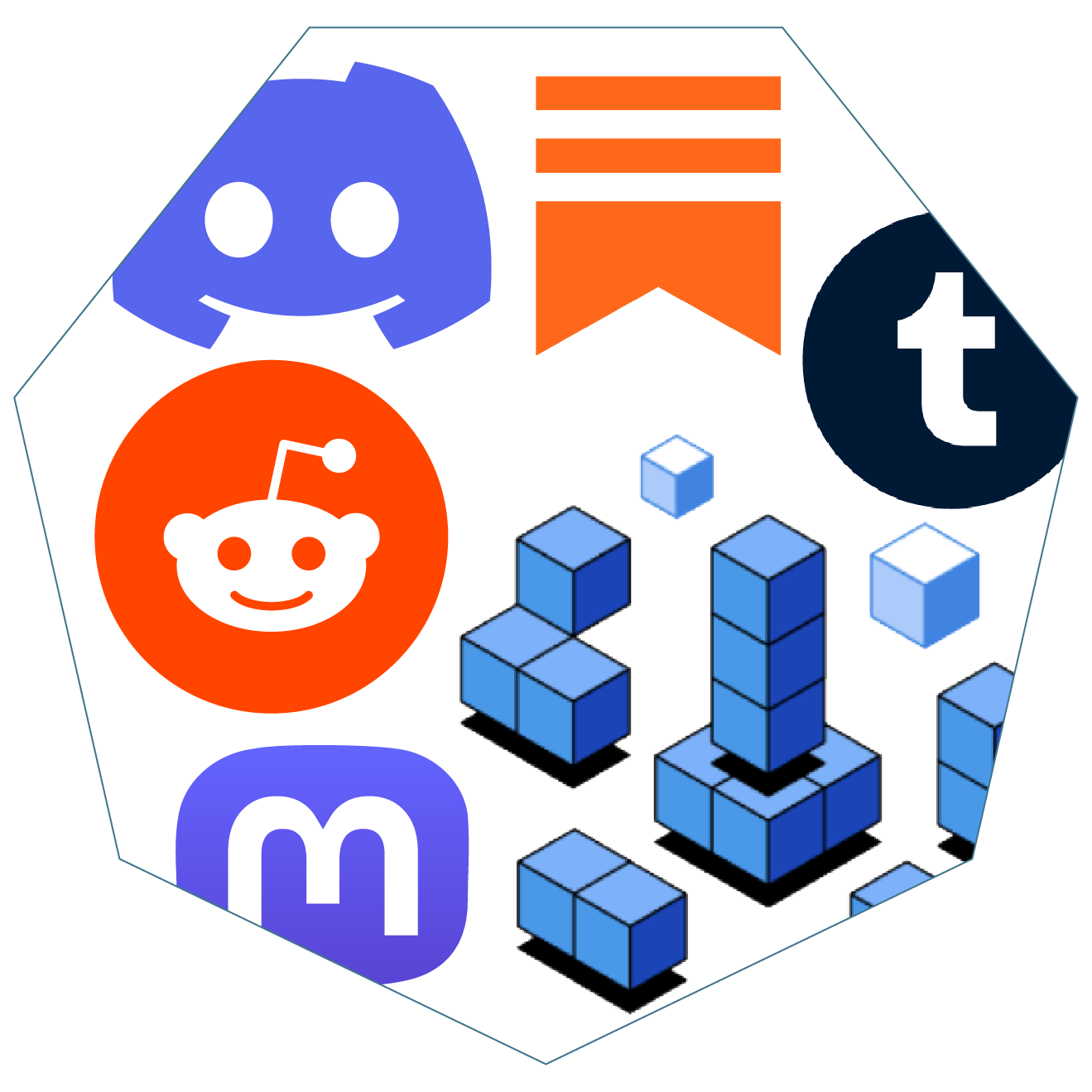 We have identified some potential alternatives to Twitter that we believe are useful for marketers to spread their message and brand.
Results Matter.
We design creative digital solutions that grow your business, strengthen your brand and engage your audience. Our team blends creativity with insights, analytics and technology to deliver beauty, function, accessibility and most of all, ROI. Do you have a project you want to discuss?
Like what you read?
Subscribe to our blog "Diagram Views" for the latest trends in web design, inbound marketing and mobile strategy.