HubSpot's Inbound 2019: Perspectives and Key Takeaways from the Diagram Team
How do you sum up a week of learning and growing while surrounded by 26,000+ other phenomenal marketers, sales and design professionals? Not easily. 2019 marked my 5th year at HubSpot's Inbound conference. With each passing year, I've seen the conference grow in number of attendees, number of sessions, the type of content offered, and of course, number of food trucks. In other words, I've seen Inbound "Grow Better".
Grow Better was a prominent theme for the conference and the HubSpot platform. It speaks to a result that your company can achieve through the Inbound methodology; focusing not just on getting "bigger" but keeping Marketing, Sales, and Service constantly aligned on helping current and future customers in order to grow. Thus, growing better.
Since there is so many learning opportunities at Inbound, I always create a goal around what I'd like to get out of the conference.  This year, I focused on product changes, conversational marketing topics, B2B SEO (search engine optimization) and the potential of extended reality.
My Takeaways:

From Clicks to Conversations: How Chatbots Take Prospects Down the Buyer's Journey - Arvell Craig
Customers want a variety of ways to communicate with your business, whether it's a sales or support opportunity. You can no longer ignore how live chat and chatbots can provide better service and experiences. As with most things in marketing, it starts with a chatbot strategy: including both bots and live chat, identifying where you should put your chatbot, defining your messaging based on what your site visitor might be looking for, and committing to a speedy response.
Can You Succeed in SEO with your B2B Company? What Will it Take? - Dominic Woodman
My favorite session of Inbound, Dominic shared his research into B2B organic search opportunities. He answered the question "Can every business compete (succeed) in Search" through insights into how the size of a company, audience size, length of sales funnel, innovativeness of product/service and brand strength all play a role. As marketers we are all pushed to show ROI on our projects, but organic search can be tricky, depending on the length of the sales cycle. Using the right kind of metrics to show attribution is essential. Dominic posted his presentation online and it's worth taking the time to read.
Product Spotlight - Christopher O'Donnell
This year, HubSpot did not announce a new Hub. In previous years, Inbound has been their time to launch Hubs such as Sales and Service. Instead, the past 12 months have been focused on listening to feedback from their customers and improving the experience in using the platform. Sone of my favorite enhancements include:
Smart content reporting for Enterprise and CMS customers

Kickback emails in forms for all customers

Two factor authentication for all customers

Buy Now buttons for Sales Hub Professional and Enterprise customers

Forms and Facebook messenger available in Conversations
To learn more about all of the product news be sure to watch this HubSpot video.
Connected Cocktail Event – Priya Parker
Yes, it was a sponsored event, but Porsche's connected cocktail event was one of the best experiences I had all week. A bold statement, I know, but this immersive experience, led by Priya Parker was transformative. The Author of "The Art of Gathering, How We Meet and Why it Matters", Ms. Parker stripped away all of the pretenses of networking and encouraged us to think and feel differently about how we interact in a group setting. I highly recommend her book and if you get the opportunity to hear her speak or participate in an experience with her – do it!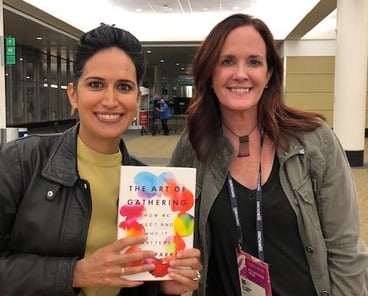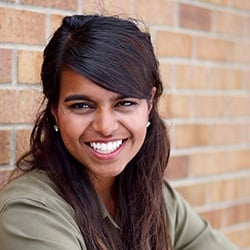 Sarah Corley, Marketing Specialist
Many of my sessions at INBOUND focused on paid social media strategy and content strategy. One of my favorite advanced sessions was from AJ Wilcox, Founder of B2Linked—a LinkedIn Ads agency. In this specific session, AJ shared specific advanced targeting tactics on LinkedIn. He made recommendations to target by job seniority instead of ads based on age or experience. He also walked through the variety targeting segments and shared tips to finding and lower bidding costs.
I also thoroughly enjoyed a session from Rhonda Khan of Simply Speech Solutions—a business specializing in personalized and team coaching. Rhonda had one of the best sessions I've seen during my four years attending INBOUND. In her presentation, Owning Your Awkward: How to Break Up with Perfections and Speak as Your Authentic Self, Rhonda shared tips for attendees on how to own their story and communicate effectively while being authentic in the moment.
Each year, my favorite Boston food truck, Sate Grill, manages to surprise me at INBOUND. Two years ago, they rebranded. And this year, they made me special meals and drinks and used me in their marketing materials for a partnership with The United Nations World Food Programme. Their meal-for-meal match goal to donate 30,000 meals to needy families and they surpassed that goal and made their first donation in my name! What an honor to be included in this heartfelt project to change the world.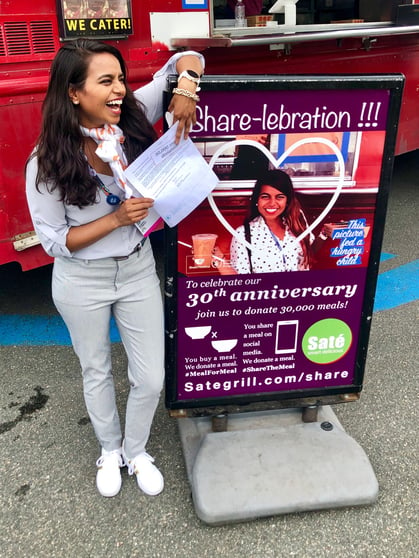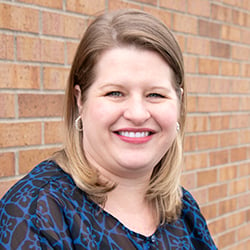 Denise Baker, Account Strategist
Summarizing what I gained from Inbound 2019 is a challenge! I say this because it's impossible to put into a couple paragraphs what I gained on a personal and professional level from this year's conference. One thing that stuck out to me about the vibe of Inbound is that even though I was a first timer I was so welcomed, and the staff are so friendly that I felt like a veteran pretty quick. Coming from slow town life in Alabama and diving into a 26k crowd of fellow marketers in Boston could have been a doozy, but I never felt out of place. Actually, quite the contrary is true as I was surrounded by thousands of like-minded digital marketers all eager to learn new things and share their own experiences with each other. Talk about comradery!
If I had to note any specific sessions that spoke to me more than others, I would first break it into 2 categories. First, are the sessions that are more professional nature and gave me insight on how to be a better leader in the digital strategy realm. I really enjoyed Christi Olson's, from Microsoft, insight on Accessibility in Marketing and her feedback on why organizations should be thinking ahead on these topics so that they aren't open to litigation or so they simply do not miss opportunities by ignoring a huge audience. Another session of keen interest to me was Dan Gingiss's presentation on creating experiences by following a WISE approach. The stories he shared with the group and examples he provided were enlightening and he gained an instant fan with that session. Another session that stuck out to me was Courtney Cox Wakefield's session on How to Win at Voice Search. I am a huge user of voice technology and I see a ton of opportunity for organizations that want to improve online experiences for their customers. This session was one I was able to refer to very quickly when back in the office after Inbound.
I could not end my recap without mentioning two great speakers that made an impact on me from a personal level. First would be Sal Kahn of Kahn University. Education has always been important to me, and I count my blessings that my parents have been able to provide me with the tools I needed to succeed. However, I am also keenly aware that thousands of children globally aren't so fortunate. If you want to hear about someone making a difference from this aspect, research Sal Kahn and the amazing things he is doing to provide a free education globally. Finally, the last major speaker I really enjoyed listening to was Bryan Stevenson with the Equal Justice Initiative. Being from the Montgomery area myself, I know many of the things he talked about to be 100% true. He spoke in particular about proximity and the effect that has on challenging narratives and making true societal changes. I found his discussion to be compelling and I am grateful to have heard him speak.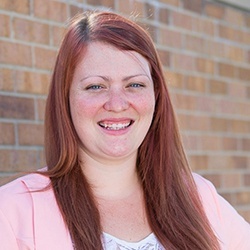 Katelyn Ahern, Digital Project Manager
In the past, I've traveled a long way to make it to Inbound. Although this year's flight wasn't quite as long this year, I still see INBOUND as a must-attend conference each year. Inbound provides priceless in-person time with other team members from Diagram, gives our team a great opportunity to learn side-by-side with clients, and networking opportunities with other members in our industry. This year did not disappoint! From voice search to Chelsea Handler, Active listening to overcoming fears with Dharmesh Shah several different topics were covered during the holiday week in Boston. As you can see we not only covered inbound marketing tactics, but also leadership and personal growth. This was my first year attending inbound as a Digital Project Manager. I learned many powerful marketing strategies to take back to the office and assist clients in executing on. I also attended sessions that will help me further apply my marketing skills to project management with topics like agile marketing and how product management relates to marketing campaign management.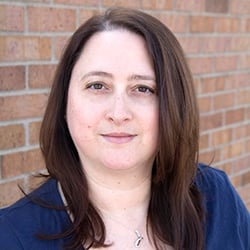 Jonna Robertson, Account Strategist

As a first timer to Inbound, I wasn't sure what to expect. The week was jammed packed with learning, networking and of course, fun.

The session that made the most impact on me include:

How to Increase Blog Conversion Rates by 1,000% - AJ Beltis, HubSpot

Key takeaways:
Use metrics to find conversion opportunities by traffic: URL/Traffic/Topic/Contacts/CVR

What types of offers are most popular? (Kits, Webinars, eBooks, templates, white papers)

If everyone wants templates, make more of those, and less of the rest.
Other great sessions with practical takeaways for our B2B clients included:
5 Decision Science Secrets that Make it Easy to Get the Online Behavior You Want - Nancy Harhut
Key takeaways:
Customers make up to 95% of their decisions subconsciously – how can you prompt their behaviors?

Engagement and responses from customers can be improved using these science principles and have impact on content creation.
Advanced LinkedIn Ads for the B2B Marketer - AJ Wilcox
Key Takeaways:
A better understanding of ABM (account-based marketing) paid strategies

How to improve bid strategies

Better insights into advanced targeting tactics.

His presentation is available online.
Header Image Credit: DMN
Have questions or comments about this post? We'd love to hear from you.
Related Posts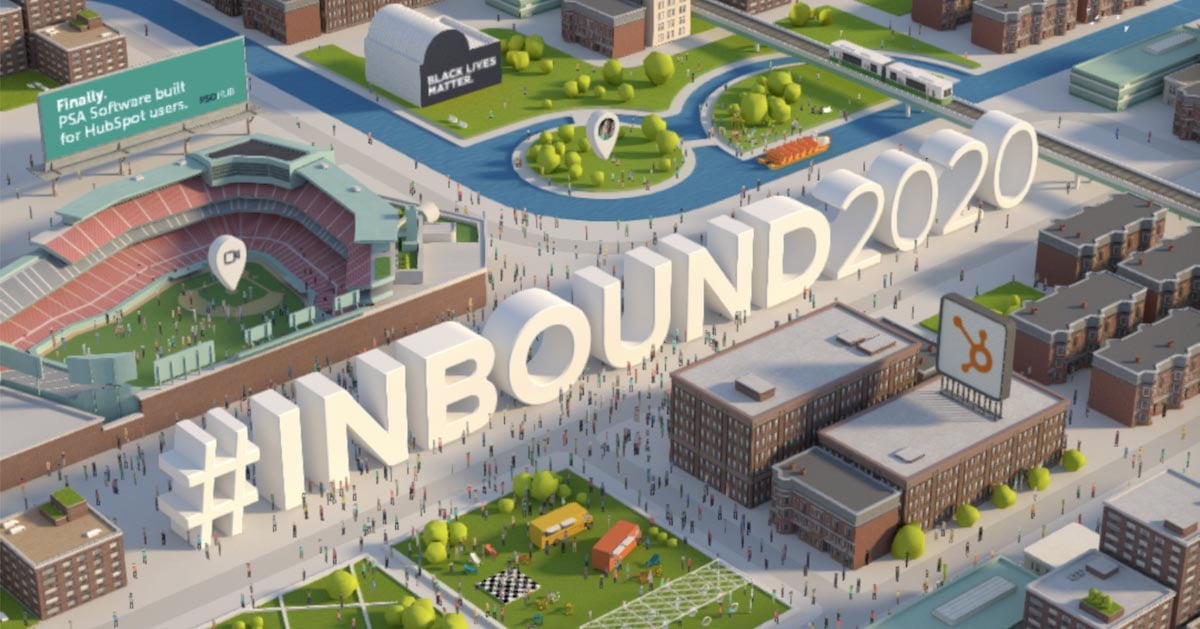 Diagrammers recap their key takeaways and highlights from HubSpot's Inbound 2020 conference.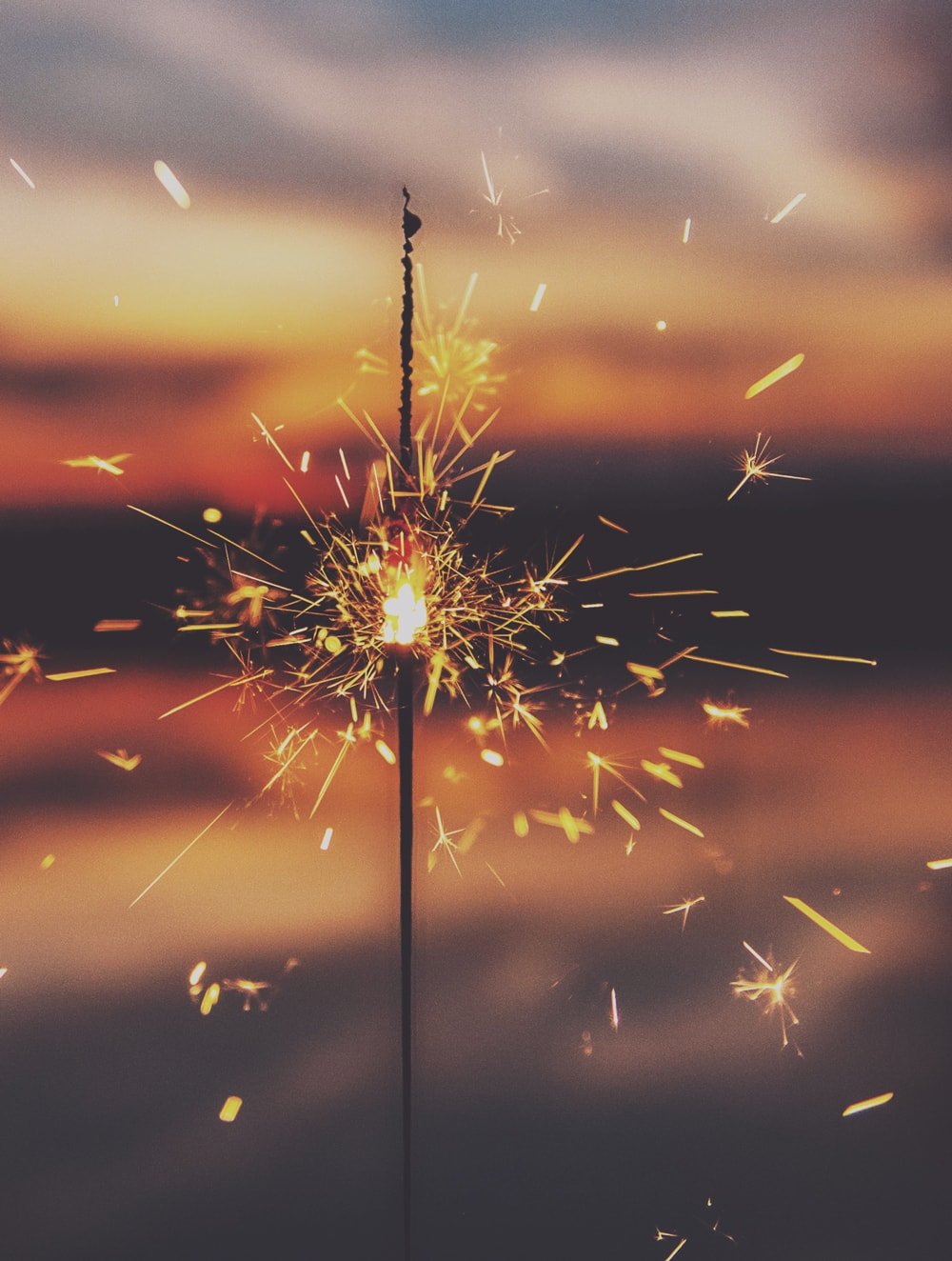 We share some of our favorite tools that can be integrated with HubSpot to create a complete picture of your online engagements and bring success to your digital strategy.
Website Traffic Woes?
Google search algorithm updates can wreak havoc on your website's traffic. Don't let your organic rankings tank. Our free SEO health check can help you identify issues that make Google unhappy with your site.
Like what you read?
Subscribe to our blog "Diagram Views" for the latest trends in web design, inbound marketing and mobile strategy.