Diagram Views
GitHub Universe 2017 Recap
John McKillip
#Events
,
#Community
Published on October 19, 2017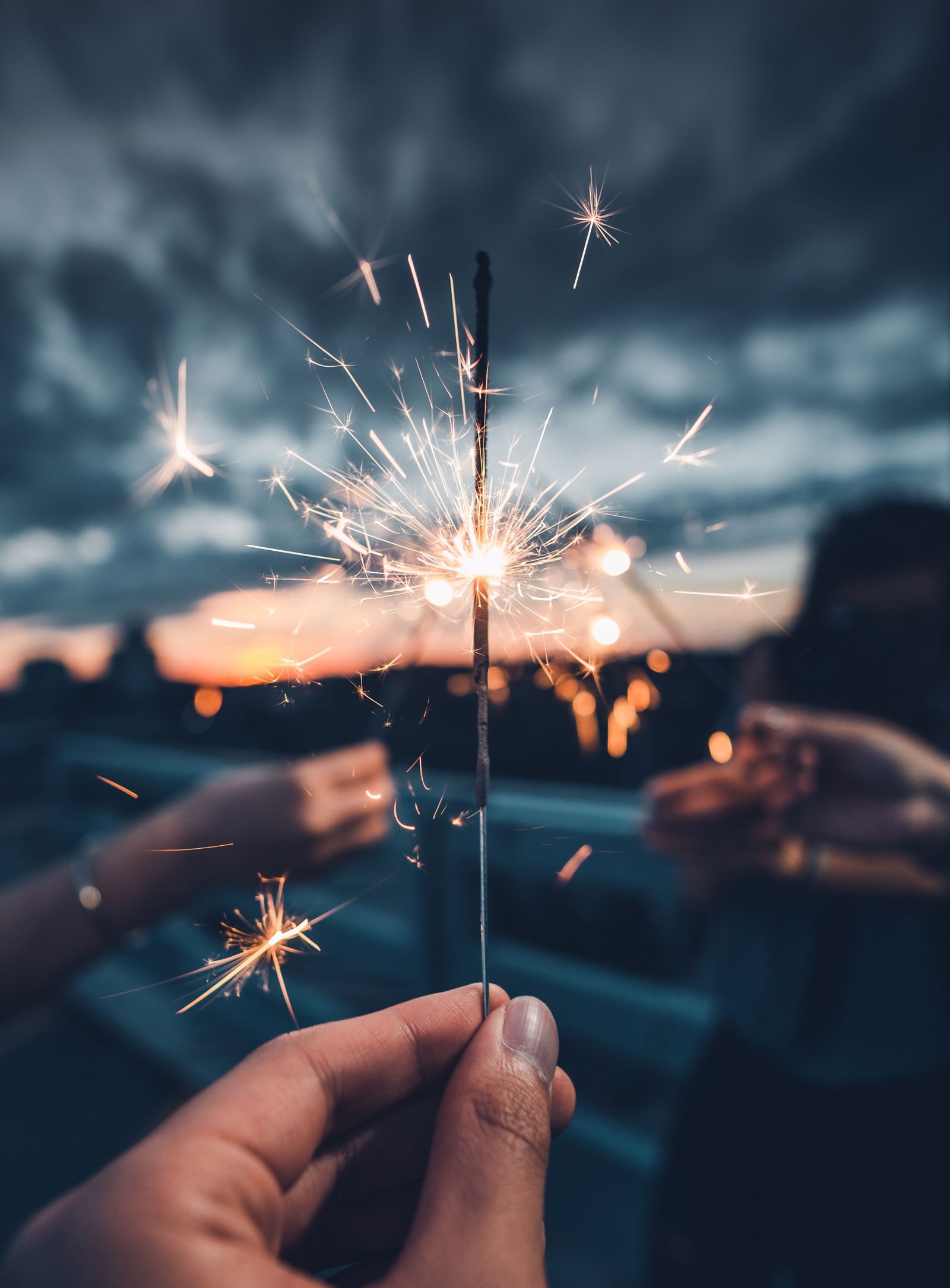 Diagram's John McKillip shares his insights from GitHub's Universe Conference in San Francisco.
There were many things that drew me to GitHub Universe. As a developer, I have always strongly believed in the concept of open source software. For example, being able to contribute to interesting and important projects, or the ability to fix bugs in software that you use are powerful things. Something that has always intrigued me about software development is how large teams of people work together on a single code base. There are so many tools and processes, it's sometimes overwhelming trying to wrap my head around it all. The chance to hear how some of the biggest tech companies are collaborating with code and more was a huge draw for me to GitHub Universe. It also didn't hurt that I got the opportunity to travel to a great city like San Francisco and meet a diverse group of my peers. Overall, it was a very positive experience for me. Since there was so much to see and do, I am going to try and touch on some of my highlights and takeaways.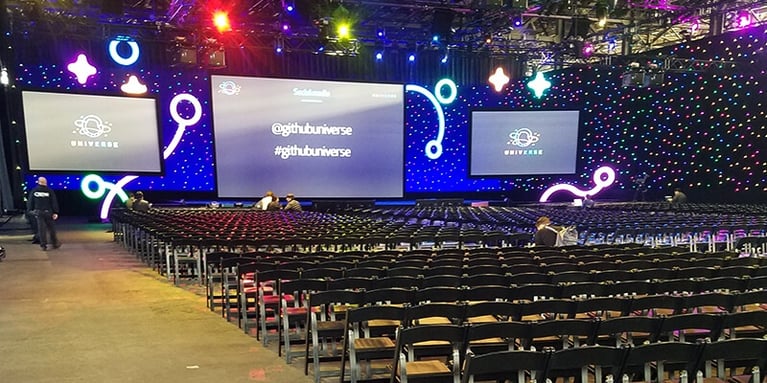 GitHub Platform Knowledge and Waffle Cones
First and foremost, as the conference name implies, there was a lot of GitHub. Most of the sessions on the main stage were specific to the platform and ranged from key milestones and functionality added since the last Universe, to improvements and new features moving forward. There was a lot of emphasis on the GitHub marketplace. This is an area that, before I attended Universe, I didn't know a lot about. The marketplace is made up of companies that have leveraged the GitHub API and built integrations to improve the way teams write and deliver software. Anything from continuous integration and project management tools, to automated security testing and code reviews can be found on the marketplace. Several companies had spaces setup inside the conference and there was an area for hourly demos with Q&A sessions. One tool that stood out for me is called Waffle. It's an automated project management tool powered by GitHub issues and pull requests. It has a pretty sweet UI that allows developers to automatically track their work. They had a really cool booth setup where attendees could learn about their product, ask questions and enjoy a waffle ice cream cone to boot.
Security, Security and AI
As for the Github platform, they will continue to release features that help developers write better and faster code. One of the announcements at the conference was enhanced functionality for security that helps developers identify dependencies in their code that have vulnerabilities. The new view is called the dependency graph and it allows developers to see all of the packages and applications used without leaving the repository. It currently supports Ruby, JavaScript and Python code. Another piece that will launch soon for the dependency graph is security alerts. With this, GitHub will automatically notify developers of vulnerabilities and in some cases, suggest a known fix from the GitHub community. Some other features that were discussed were the recently launched discover repositories tab, which is basically a feed of open source projects that is curated based on your activity in GitHub. AI and machine learning were a hot topic of discussion and GitHub is using this technology to gain insights that will complement a developers workflow. Using data on what developers are doing, GitHub wants to help them find work they are interested in, write better code, fix bugs faster and have a totally unique experience in the platform.
Breakout Sessions
During the two days of Universe, there were many options for sessions to attend. Aside from the ones happening on the main stage, there were four smaller stages setup throughout the venue. There were options for GitHub specific demos, technology demos, talks about how companies are utilizing open source and several personal growth sessions from the developer and team member view. Each of the smaller stages had six sessions per day, so it was impossible to see it all. While I didn't see everything I would have liked, there were several sessions that stood out for me.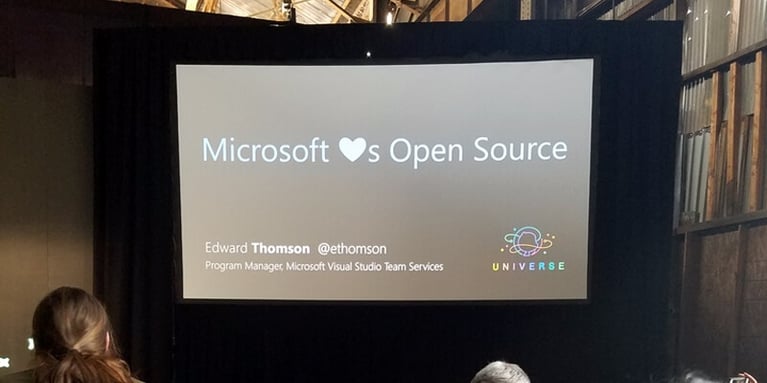 My favorite was called, Microsoft <3's Open Source: Becoming the Biggest Contributor. It was given by a developer named Edward Thomson, who is a program manager for the Microsoft Visual Studio Team Services. He told the story of how Microsoft went from their early days of being completely against open source software to becoming the largest contributor today on GitHub. He also gave an inside look at how the different teams inside of Microsoft went from working in silos to opening up and collaborating and how it has benefited them and enhanced the products they produce. Another session I really enjoyed was called, Caring for Your Fellow Developers. It was given by a senior UI engineer at Netflix named Trent Willis. He gave some personal examples of situations he has experienced as a developer and some interesting things to think about when you are a developer working on a team with other developers. A few other notable sessions for me were Algorithmic Biases in AI and Machine Learning by Terri Burns, who is a product manager at Twitter and a demo / Q&A session on Electron by a few of the internal GitHub Electron team members. All of the sessions I attended were very well done and included a wide range of interesting topics related to software development.
I LEFT MY HEART...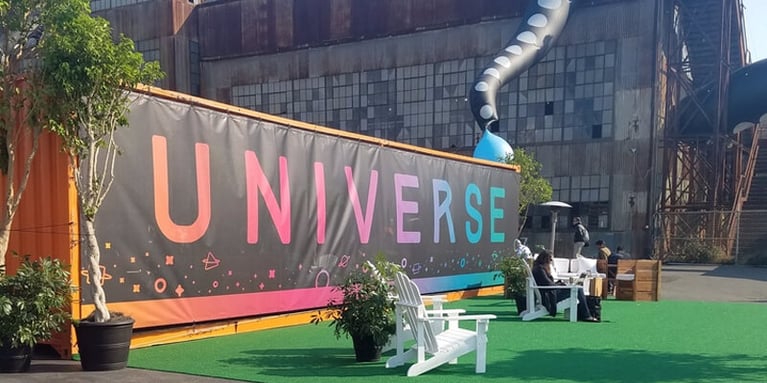 The last thing I want to touch on is the impressive venue where Universe took place. It was at Pier 70, which is owned by the Port of San Francisco. It is a huge, old, industrial building with lots of character. Outside the building, there were a bunch of shipping crates turned into seating / dining areas, some with sound and monitors to watch the sessions on the main stage. The building was decked out in several places with giant, blow-up tentacles and the front entrance was guarded by a huge, 40 foot Octocat. Breakfast and lunch were catered both days with a nice variety of food and drink (including lots of vegan and vegetarian options). Inside the venue, was a massive open space where you could learn about different marketplace companies, talk to GitHub experts and mingle with fellow attendees. There were several places you could lounge and get work done if needed. The whole place had a hip vibe and with the elaborate main stage setup, with a background of colorful lights and stars, huge monitors and music throughout, it was almost like being at a concert and not a conference. It was definitely a unique atmosphere to attend a conference and for me, was a really enjoyable experience.
Going into GitHub Universe, I didn't really know what to expect. I love being a developer and really enjoy learning and talking about technology. After attending the conference, I feel excited about many of the things I learned and experienced. It's really amazing to see how far GitHub and open source has come and how dedicated people are to sharing and collaborating with each other. I met lots of great people and it was really inspiring to just be around so many smart, diverse people who share the same interests that I do. If you are a developer and are looking for a unique opportunity to learn and grow, I would highly recommend attending the next GitHub Universe.
Have questions or comments about this post? We'd love to hear from you.
Related Posts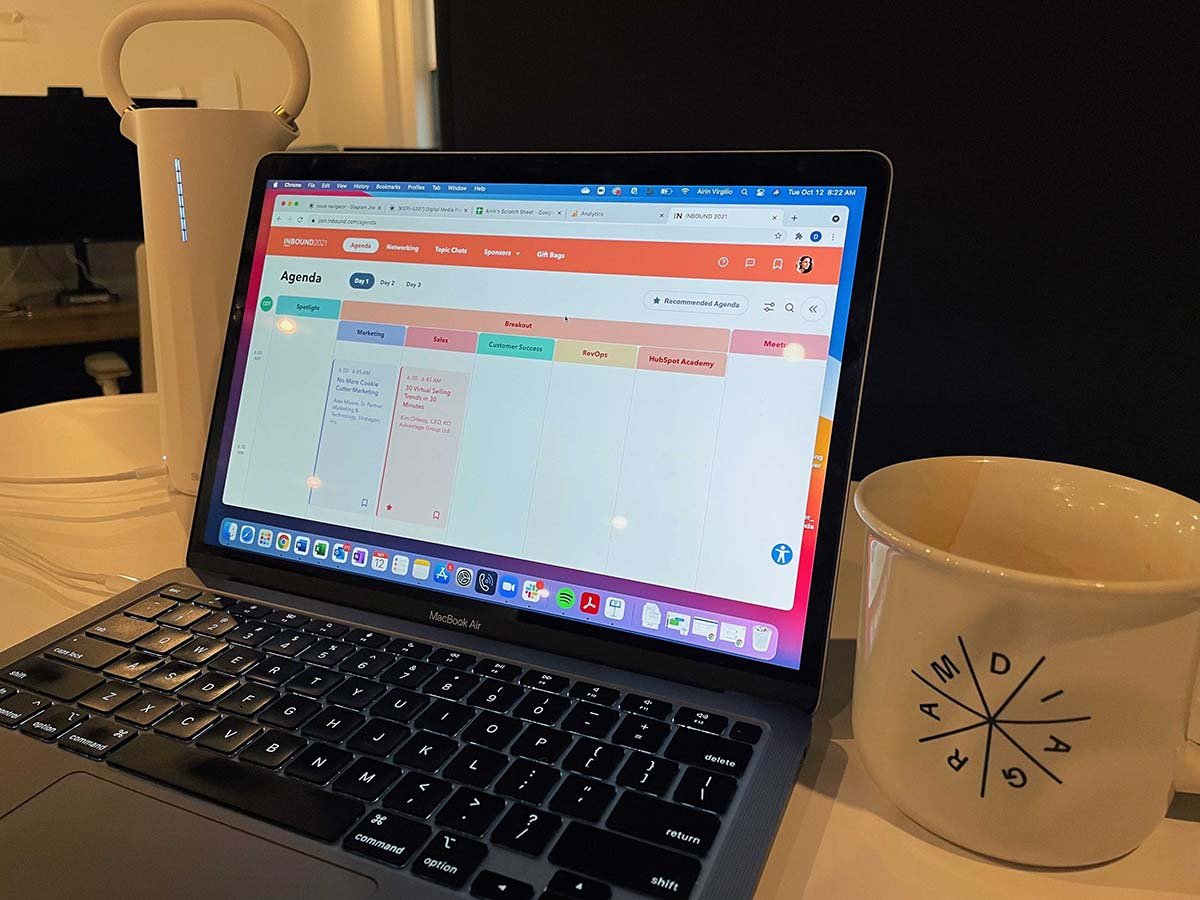 Diagram's Kristen Sydelko gives her unique perspective as a first-time attendee to Hubspot's annual conference, INBOUND 21.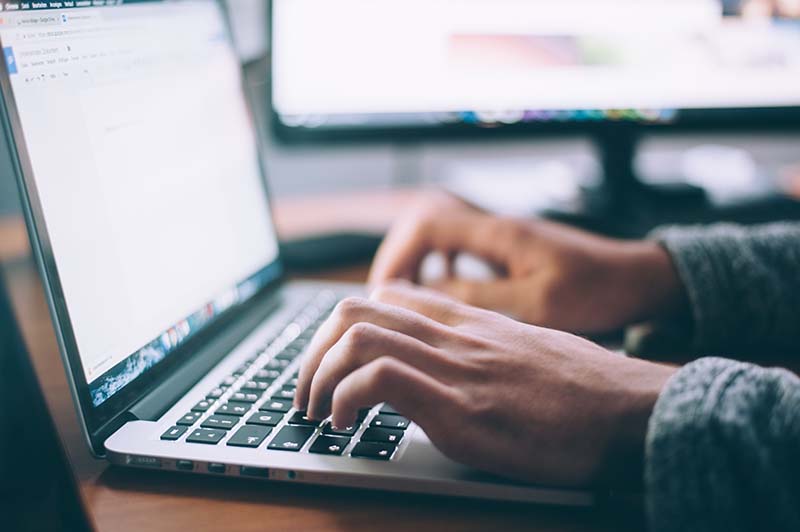 Diagram's Ryan Duffing offers a tutorial on indexing and retrieving custom fields with Epinova.Elasticsearch for Optimizely (formerly Episerver).
Results Matter.
We design creative digital solutions that grow your business, strengthen your brand and engage your audience. Our team blends creativity with insights, analytics and technology to deliver beauty, function, accessibility and most of all, ROI. Do you have a project you want to discuss?
Like what you read?
Subscribe to our blog "Diagram Views" for the latest trends in web design, inbound marketing and mobile strategy.