How do you leverage the three aspects of YouTube (a video streaming platform, a social network, and the 2nd largest search engine) in your marketing strategy?
Recently, as part of the EduWeb16 conference for Higher Education Website and Digital Technology in Denver, I had the chance to sit down with some folks for 15 minute video marketing strategy sessions. I thought I would take some of the elements of those sessions and bring them together into a few blog posts, so that more people might benefit from some of the points I was able to discuss with folks I met.
As I mentioned in my other post about EduWeb16, one thing that I came away from those sessions having discovered was that even organizations who have video content hosted on YouTube are often overlooking some very important aspects of YouTube as it relates to video content marketing. The best way to avoid that is to think of YouTube as one thing that having (at least) three aspects.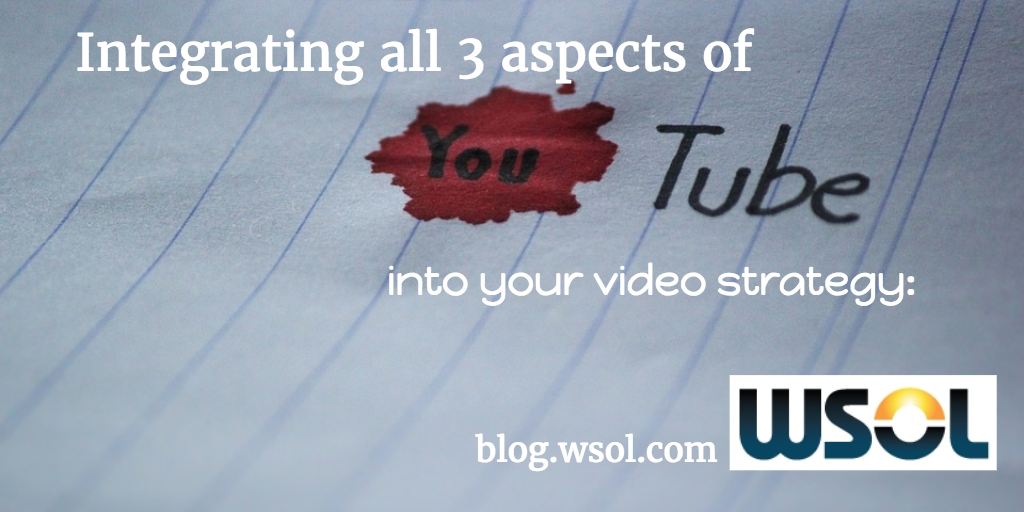 The YouTube Trinity
The three aspects of YouTube to consider when it comes to content marketing strategy and video are its role as:
A video streaming platform
A social network
The 2nd largest search engine
YouTube As a Video Host and Streaming Platform
YouTube is, first and foremost, a place for people and organizations to host their videos. Hosting video is not an easy thing to do. Video files are large, and getting them to stream efficiently takes some good math. We've talked about the challenges of hosting your own videos on this blog before. There can be upsides in terms of control, but there will be a premium to be paid, and - in most cases - the best strategy is to rely on the work Google has already put toward the cost of successfully hosting and streaming large, high quality video files.
It's easy to remember that aspect of YouTube's personality in your strategy. It's also easy to factor that aspect into your tactical approach. Let the video hosting platform do what it does best. Luckily, since Google acquired YouTube, they've put loads of money toward getting really good at hosting and streaming video files. That means that you are free to worry about other things, like thinking strategically about the content itself and making it valuable to the communities it is designed to attract and serve.
Google (via YouTube) has never been the only place in town hosting and streaming video, however, nor even the company that does it best for all circumstances.
Outfits like Wistia and Vidyard are integrating with CRM systems and giving organizations more control over the calls to action that videos can and should have attached. They are also allowing for some greater control over the contexts in which an organization's videos are placed. This becomes even more relevant when you consider that more and more of the content that YouTube hosts and streams is (or is surrounded by) paid ads. It may very well be that your video marketing strategy best approaches YouTube's role as a video host by paying for your content to appear as an ad in front of someone else's video instead of being the video that someone else pays to be in front of.
Regardless, YouTube has plenty of competition for video hosting and streaming. Vimeo, Kaltura, and Brightcove are just some of the other recognizable names in the space, and each has developed its own unique approaches to solving video hosting and streaming problems, both for businesses and for individuals.
The primary objective for any organization seeking to approach this first aspect of YouTube is simply to be aware of your own needs for you video content. If you have a large volume of long videos that don't require social interaction or sharing, require a clear and compelling call to action to track video ROI, and you don't to be surrounded by random videos from possible competitors, the standard, free YouTube hosting and streaming approach most likely isn't right for your organization.
Two 15 min slots 3pm, & 4pm free video marketing reviews & keyword research today. LMK if you want one. #eduweb16 pic.twitter.com/8RP6GACuf3

— Douglas Lee Miller (@videoin) August 2, 2016
YouTube does dominate in terms of market share, however, and that fact has an impact on the second and third aspect of YouTube an organization needs to consider.
YouTube As a Social Network
One of the reasons YouTube was able to dominate in the video hosting marketplace has more to do with the social side of life, and less to do with the technical.
There is no question that YouTubers have a very unique community. That community is, in part, responsible for YouTube's dominance in the marketplace. But navigating that community can be problematic and challenging for many organizations. That's why, even if hosting and streaming via YouTube seems to be the best option for your organization, it is important to also consider this vital aspect of YouTube to set yourself up for success.
Despite the constant complaints about abusive or trolling comments on YouTube videos, community still thrives there, and many organizations choose to leave comments enabled on their videos. Google has made an effort to clean up comments by forcing all YouTubers to have Google+ accounts attached to real names. That didn't go over so well. Your strategy for dealing with the community aspect of YouTube as it relates to content marketing is to know your community and be aware of what is appropriate for them in the YouTube space.
If you use YouTube simply to host video content and don't have comments enabled on your videos, you may want to re-examine the need to have your videos on YouTube as opposed to being hosted in another environment that might allow you more control and ability to track calls to action. If you choose to leave the comments enabled, be prepared to treat them appropriately and have a plan in place for what to do if things go sideways. No matter what, don't feed the trolls.
One compelling reason to keep your content in the YouTube walled garden is also the third aspect of YouTube to consider - its role as (ostensibly) the world's second largest search engine.
YouTube As the 2nd Largest Search Engine
The third aspect of YouTube your organization needs to consider for a healthy video content marketing strategy is perhaps the most important. YouTube is often referred to as the World's 2nd Largest Search Engine. Growth over time of phrases like "how to" in its search data and a generation of younger, more video-centric users have contributed to this status. People are searching for solutions to problems using YouTube search and that is evidenced by the priority Google has given video, both on the primary Google Search Engine Results Pages (SERPs) and in the surrounding data that they make available.
Google Trends, for example, can now be filtered to show data around YouTube specific search queries for keyword research.
Just as your organization needs to optimize its web domains and pages to properly appear in strategic spots on SERPs, your organization's videos on YouTube need to be optimized to show up in YouTube powered searches. Showing up under the right queries in a YouTube powered search isn't the only reason to make sure that your videos are optimized, however. Video has the unique ability to be a portal to a playlist in a way that search for text pages does not.
When someone finds your website by using a particular query in a search engine, standard user behavior shows that the first page of results will usually drive the traffic, and that the hundreds of additional pages with content often go unexplored.
Imagine what would happen if, when the user clicked on a result from a search engine and, after being at that web page for a given amount of time, their browser was automatically re-directed to the NEXT listing in the search engine results. A similar thing happens with autoplay in YouTube. When a viewer watches a particular video and that video ends, they are almost immediately presented with another video (not always another video from the same creator, but often a video that YouTube determines is "similar."
This is where your organization has a really great opportunity to get in front of an audience that does not already have your organization on their radar. By ensuring that your videos are optimized for YouTube powered search, you are simultaneously giving yourself a better chance of being the NEXT video in a viewer's playlist.
That in itself may make the third aspect of YouTube the most important for your organization to consider for a health video content marketing strategy.
Next time, we'll talk more about the specific research I was able to help folks take on in our 15 minute power sessions for Video Content Marketing Strategy. In the meantime, if you have any questions or tips of your own regarding YouTube, please feel free to share them in the comments below.
Related Posts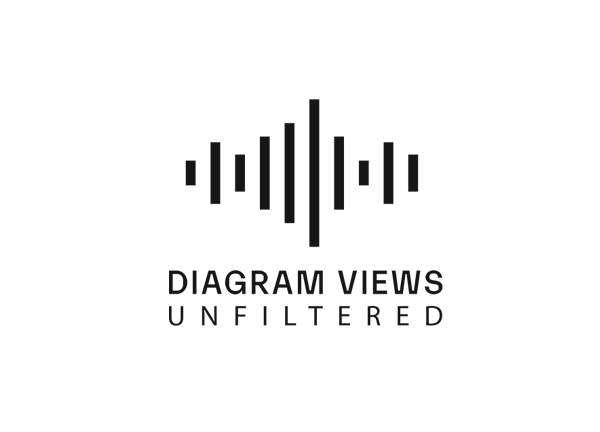 Diagram's Allison Casey spills all her insider SEO tips on migrating your content the right way.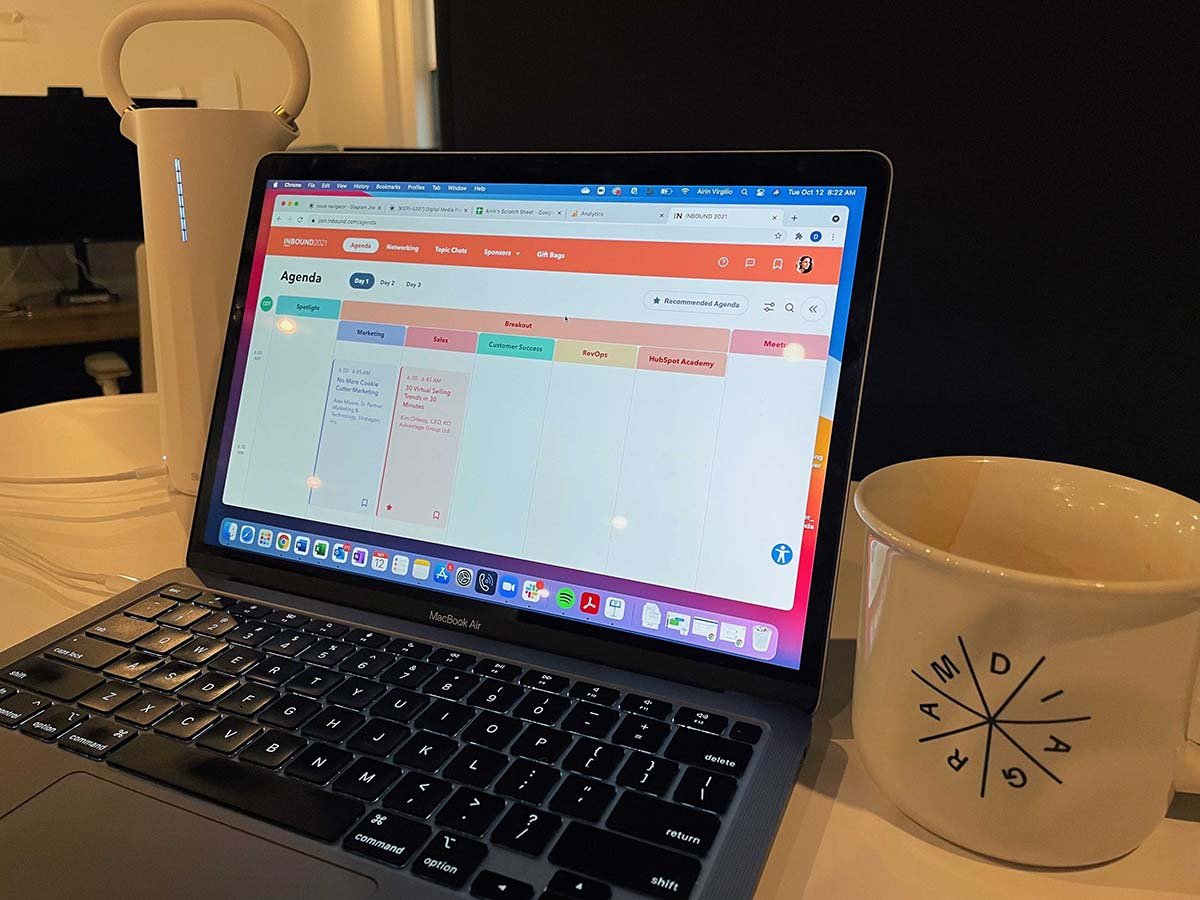 Diagram's Kristen Sydelko gives her unique perspective as a first-time attendee to Hubspot's annual conference, INBOUND 21.
Results Matter.
We design creative digital solutions that grow your business, strengthen your brand and engage your audience. Our team blends creativity with insights, analytics and technology to deliver beauty, function, accessibility and most of all, ROI. Do you have a project you want to discuss?
Like what you read?
Subscribe to our blog "Diagram Views" for the latest trends in web design, inbound marketing and mobile strategy.