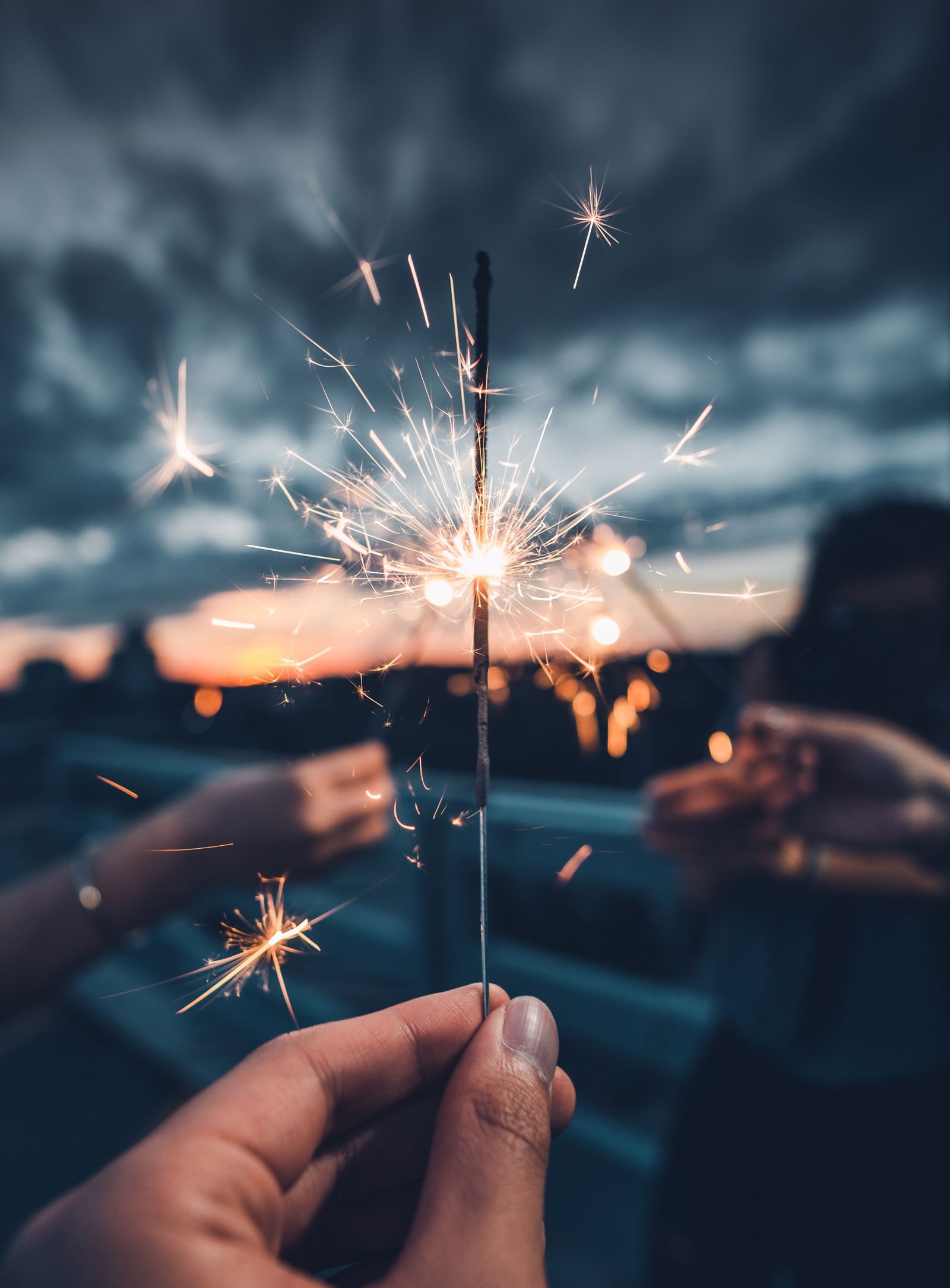 Diagram Views
How PandaDoc and HubSpot Streamlined our Sales Process
HubSpot
Published by Deb Smith on 03.28.19
PandaDoc is a tool we use daily to write our contracts and proposals for clients. Let's take look at exactly what PandaDoc does and why we use it for Diagram.
PandaDoc. What is that you say? Well it sounds like a healthcare professional for that lovable, black and white, bamboo eating, furry, non-hibernating bear. But it's not.
PandaDoc is a tool the Sales department at Diagram uses daily. We use it to write our contracts and proposals to send our clients. And it's made my contract writing life so much easier!!
When I first started at Diagram, we used to write contracts in Word then convert them to pdf's. We would email them to the client, they would sign and send back. We would sign and send the fully executed copy back to the client.
Ability to collaborate
It wasn't exciting but that was our process. It also wasn't always that easy. Different versions of Word or Adobe would cause issues sharing between team members. And if one person wanted to add something to the document they would have to update it, share it via email with all the team members, then those team members would have to make sure they used the most recent version to make adjustments then share that updated version with everyone. Again. Not easy.
Some of that hasn't changed as we still need to make sure both parties have a fully executed copy of the contract. But PandaDoc allows our team to collaborate directly in the document making things much smoother.
We start the proposal or contract with a template that we've created specifically that works for our team. Usually I'm the one who starts it because let's be honest…as a Sales Coordinator, I'm good at coordinating and I don't want the sales guys messing up the way I have things organized in there!
At that point, anyone in the team can login to access the document. We can work together to adjust the document to the client's specific needs. There's an activity log we're all able to see that shows who has made changes in the document. We can even make comments to each other so we know why the changes were made. My favorite comment is "Looks great! Let's send it to our client!" Then we type a quick email telling the client to "click on the button below" and hit send. Easy peasy!
Sending notification reminders
Not only does PandaDoc allow us to send the contracts digitally, essentially making the signing process much smoother, but it also keeps us informed. Once we've sent a contract to our client, we get notifications updating us when the contract has been signed by all parties involved.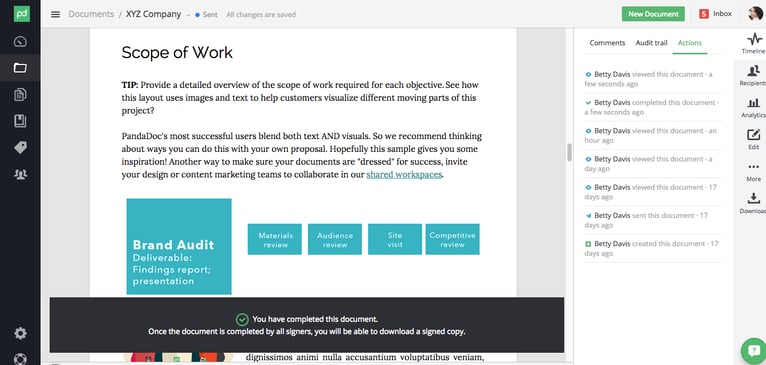 Here's how it works. I (or the sales guys, if I let them) send the contract to the client. We also copy our highly astute (brownie points from the head cheese) CEO so he can sign once our client has signed. I get a notification once our client, then our CEO, has signed. If, for some reason we haven't received the notification, we can then send a reminder directly to our client. "Hey! We'd love to get started on your project but we need that pesky signed contract in place."
It makes things so much easier as I just pop in to PandaDoc, hit a couple buttons (I have an email template set up), then the email is sent. And again…it's noted in the activity log so everyone on the team can see I sent a reminder. Voila!
It looks sexy!
Other than the ease of use and fancy reminders, why does Diagram use PandaDoc? It looks sexy!!
There are various themes for the overall look of the documents which we toyed around with originally but decided to put our own design team (after all, that's what we do) to work on coming up with an original template.
Once a template is established, you can do the basic changes of font size, font style, header images. But it really gets exciting when you add in a cover page, images, video, and tables!
Cover pages are easily created and automagically added to the beginning of the document. Same with the header and the footer. Just drag and drop and everything lines up!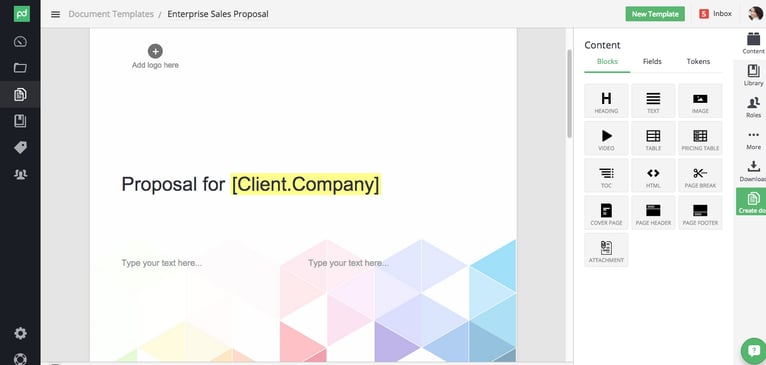 Images and video are easy to add and can be saved in the library for future use. Just drag over the appropriate content block and upload your item. I've added our company logo as well as roadmaps for our clients. It adds a nice touch when you can add a take away to the contract.
Tables are the best!! You can add in multiple columns, change the header colors, and even hide the table header and borders, essentially having a block of content lined up and looking pretty without it showing off in a box. And it's all done in a matter of a few clicks.
Pricing tables are even better and will calculate the total of the project based on price and quantity. It also allows an extra line for a more detailed description of the item you're offering. There's even the option to add the items you offer to a catalog so once you're creating the table in the document, you can make a couple clicks and add that specific item quickly. How sexy is that?!
HubSpot Integration
And the fact that it has a HubSpot integration makes it even sexier! You may not realize how amazing this is but it's so helpful to those of us writing the documents. HubSpot will send specific data to PandaDoc and complete set tokens in the proposals and contracts for you. This makes writing even quicker!
You start from a HubSpot deal. There's a PandaDoc dropdown that includes a Create Document button and in a matter of a few steps you've created your template and you're on your way to sending that contract to your client! Once you've sent the document you can also track it from HubSpot! AMAZING!!
I could go on and on about all the options available as I have only begun to skim the surface but I'll let you do your own exploring. Check out what PandaDoc can do for you and let that healthcare professional for that lovable, black and white, bamboo eating, furry, non-hibernating bear make your contract writing life easier too!
Have questions or comments about this post? We'd love to hear from you.
Related Posts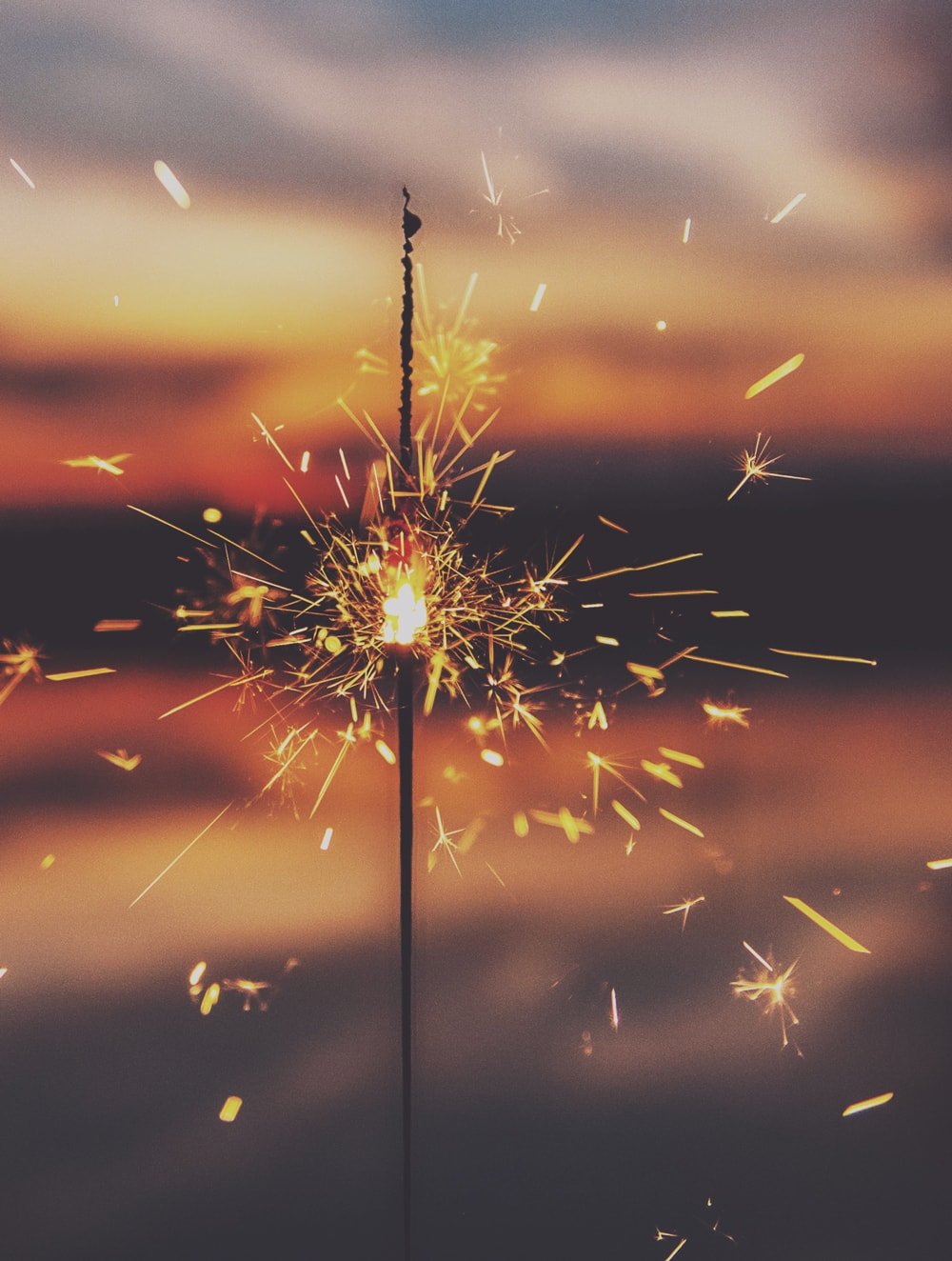 Content managers have a great deal of power over a website. We share some tips for how to format content to provide the best experience for every user.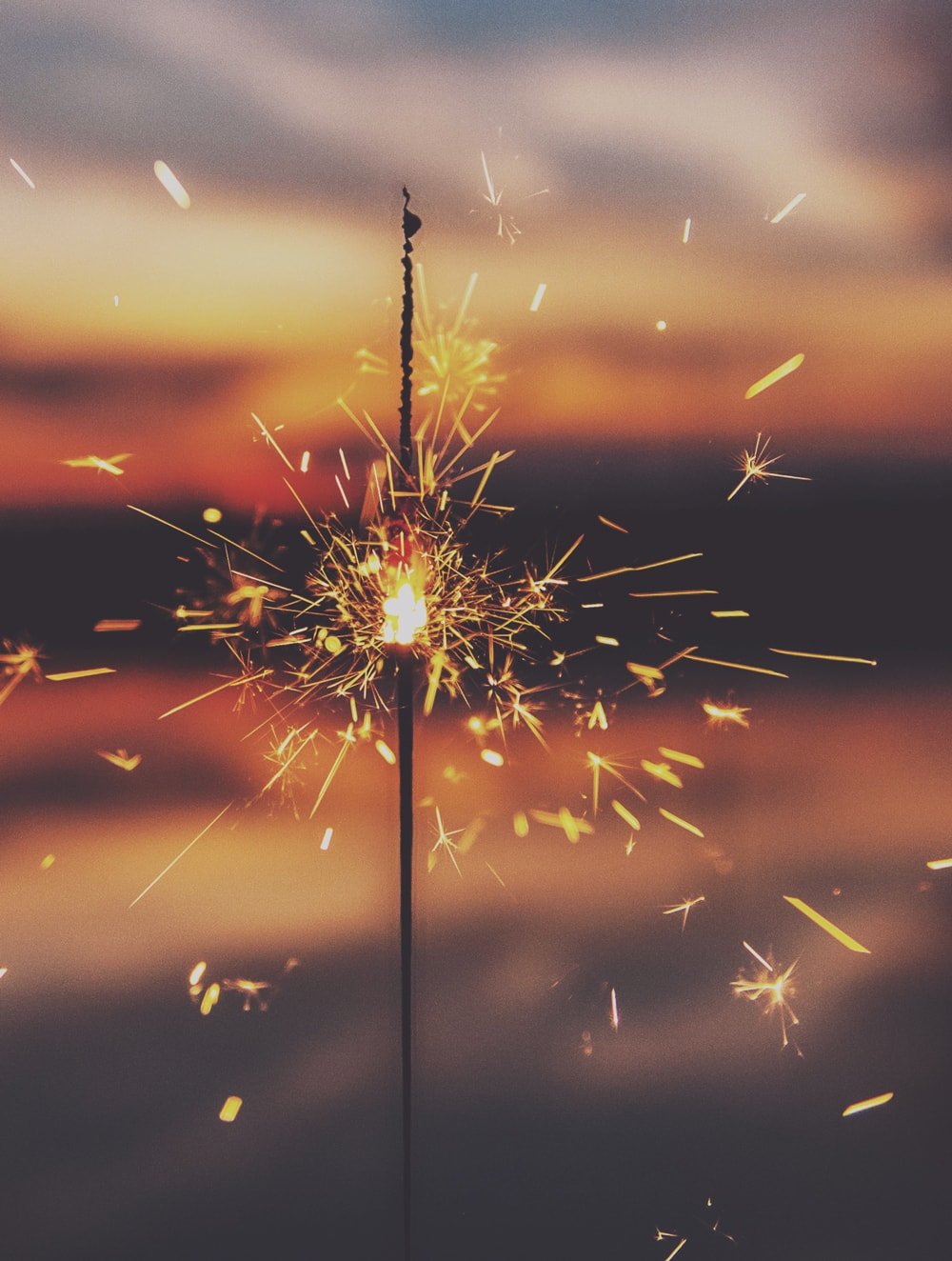 We look at how Section 508 sets standards for websites to ensure everyone can use them, even if they have physical disabilities.
Website Traffic Woes?
Google search algorithm updates can wreak havoc on your website's traffic. Don't let your organic rankings tank. Our free SEO health check can help you identify issues that make Google unhappy with your site.
Like what you read?
Subscribe to our blog "Diagram Views" for the latest trends in web design, inbound marketing and mobile strategy.