Krueger International (KI)
CMS Migration and User Interface Redesign
Delivering a user-focused digital experience redesign and content management migration for a leading furniture manufacturer.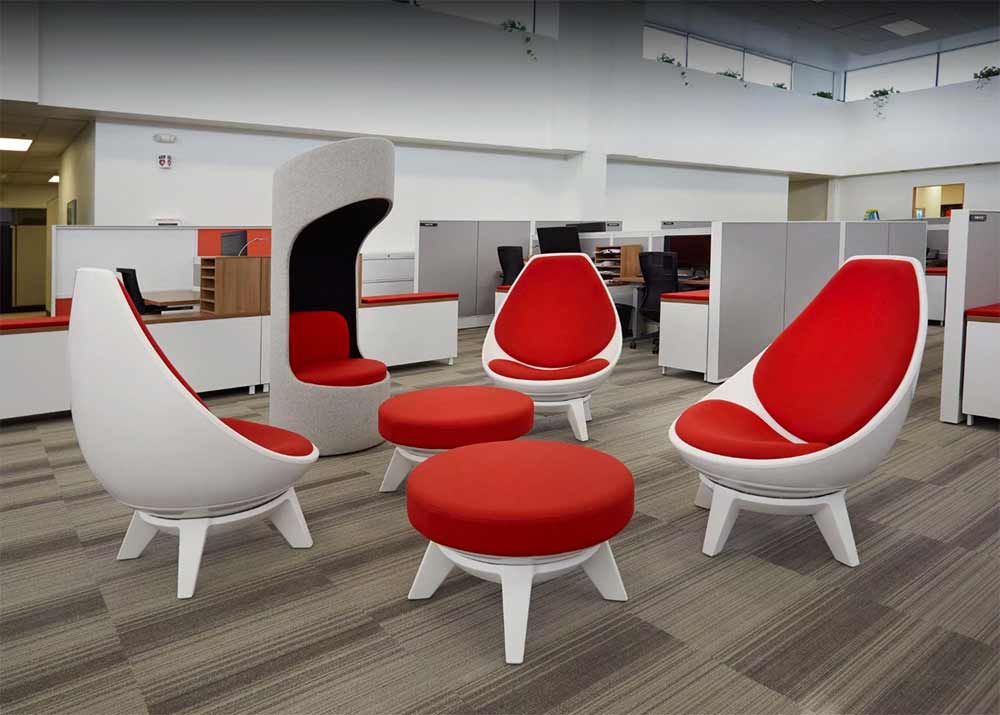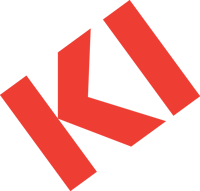 Challenge
With a diverse internal and external user base, the website was not effectively meeting users' needs for cohesive and comprehensive access to KI's vast product and services library.
Solution
Discovery and research to better understand the user base and desired outcomes, migration to a dynamic new CMS and a research-backed user interface and information architecture overhaul.
Background
It all started with a metal folding chair in 1941. Krueger International, Inc., has since become the contract furniture company committed to providing customers with smart solutions.
As the first 100% ISO9001:2008 certified furniture manufacturer, Krueger International (KI) rapidly expanded into Canada, Latin America, Europe, Asia, the Middle East and Australia. A strong market understanding is crucial to the success of this $700 million-dollar company. It's the main reason why global customers continue to trust KI's innovative furniture and moveable wall solutions and why their website needed to be able to showcase their expertise and rich product offerings. Diagram's job was to build an online system that seamlessly and beautifully showcased KI's varied products and services to their many clients and internal users.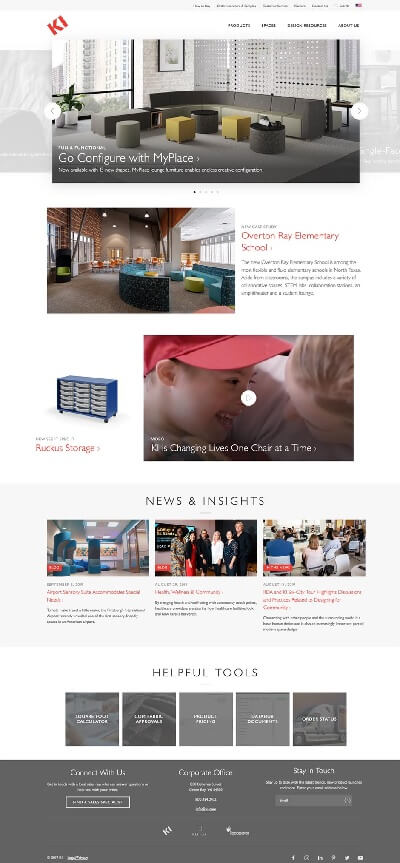 Research and Strategy
To serve KI's internal and external stakeholders more effectively, the website needed a new, cohesive user interface (UI), better information architecture, and improved search and navigation capabilities. Fixing these pain points would reduce the amount of time that their sales reps, customer service teams, and customers spent locating product information that was buried within a series of PDF documents on the old site.

Through extensive user interviews, Diagram discovered that KI sales representatives and customers needed the ability to:
Browse, download and share images (Image Library), fabric and finish collections

Search by keyword, product or document type for brochures, product specifications, planning guides, fabric and finish cards, case studies and more (Document Library)

Browse standard fabric and finish offerings and view specifications, colorways and product approvals (Surface Materials Library).
And they needed to do this in a single, easy to use tool that could quickly and accurately deliver what they were looking for.
In addition, all of this content and imagery, much of which was stored in separate systems, needed to be organized and delivered with a flexible, cost-efficient Content Management System (CMS) that had the ability to integrate with KI's back-end systems.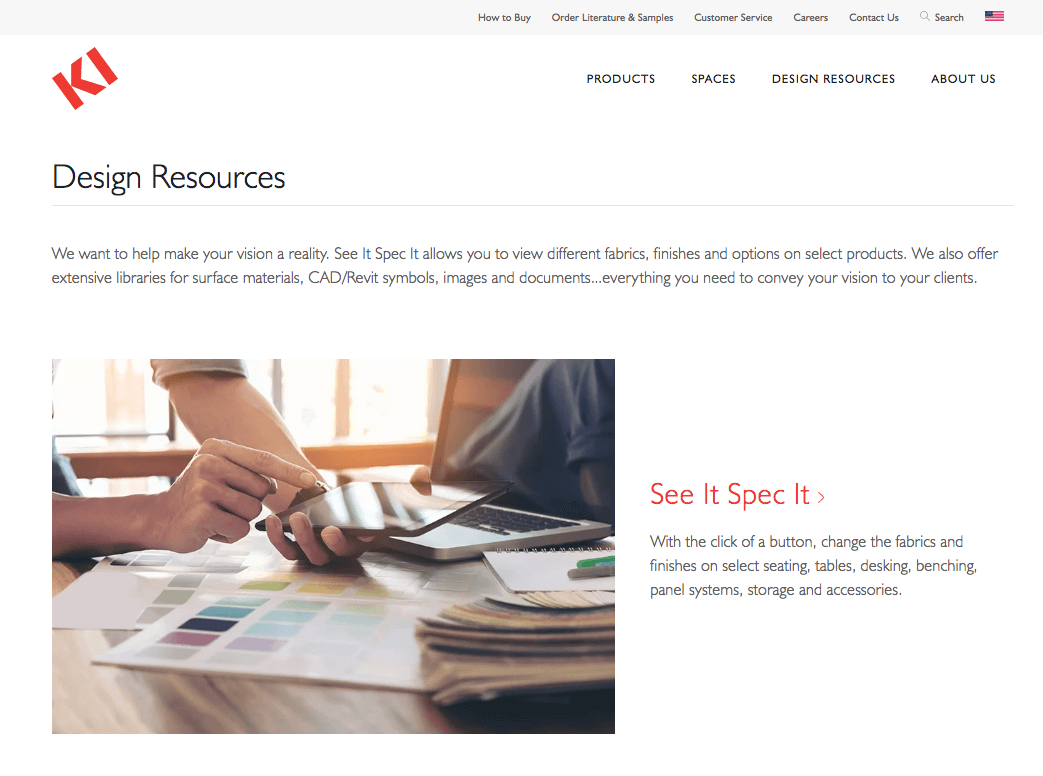 Episerver Migration
With the old site on an outdated version of Ektron, Episerver was the clear choice for CMS migration. The Diagram team took a graduated rollout approach, building out features in Episerver's Digital Experience Cloud and pushing components live over four project milestones rather than a single "big reveal" after a long project cycle. Taking advantage of Episerver's subdomain system allowed the old ki.com and the new site on furniture.ki.com to coexist until project completion.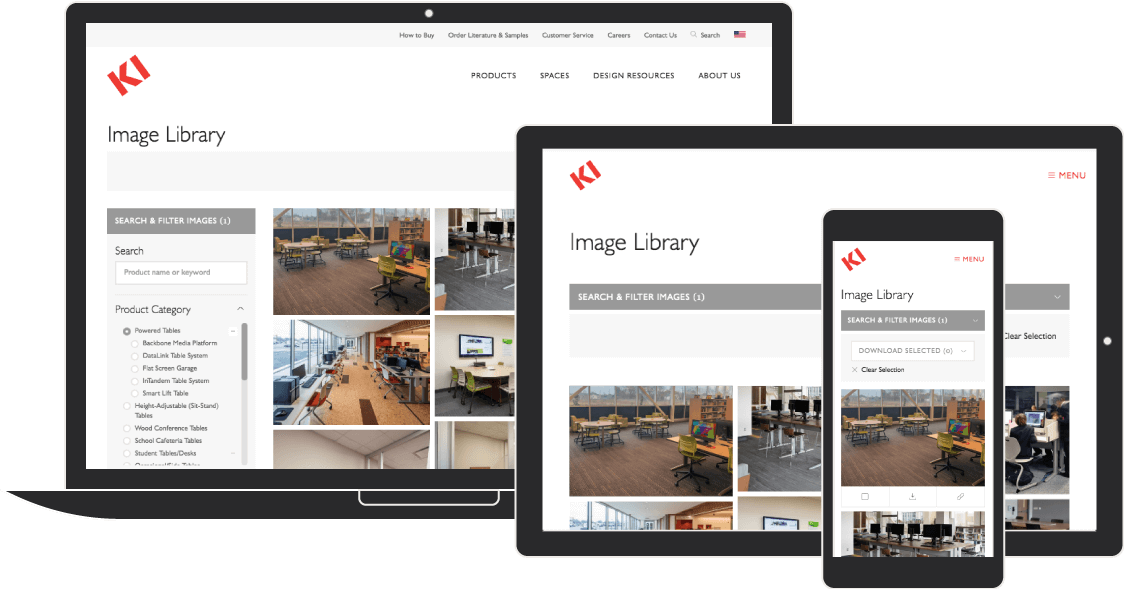 Custom Middleware
The robust product libraries are fueled by a custom .NET middleware solution that integrates KI's internal database (BPCS/ESPEC), Episerver CMS, Episerver Find, and Widen (digital asset management).
The middleware between KI's ERP and Episerver creates associations between products and their approved fabric/finish options and also functions as the data source for site search via Episerver Find. Fabric data in the middleware also feeds their partner website, pallastextiles.com.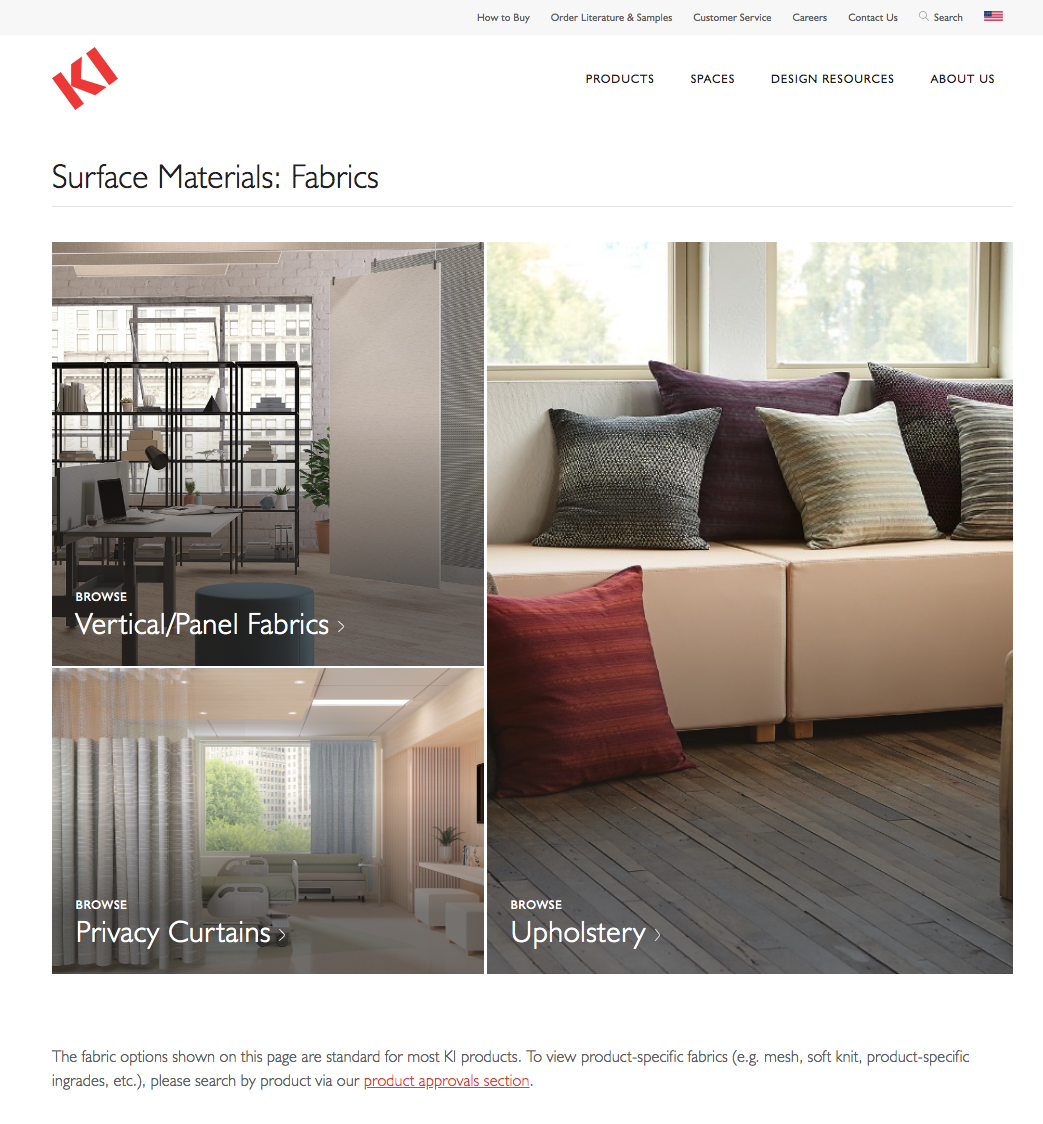 User Interface and Navigation Design
Collectively known as the all-new Design Resources section, KI's Image Library, Document Library, Symbols Library (CAD/Revit), and Surface Materials Library are an interactive toolbox that gives designers everything they need to convey a vision to a client.
Results
Initial results show significant improvements against all key performance indicators.
increase in pages per session
KI's continued partnership with Diagram ensures that their website presence will continue to put the user first. From 1941 to 2019, KI continues to provide customers with smart solutions—in person and online.
This is the greatest advancement for our marketing team and for the 'KI experience' overall in nearly a decade. Our website is certainly one to be proud of – one of the very best in the industry.

Angela Koltz

Krueger International