Pallas Textiles
Redesign and Episerver Development
With the goal of being the best textile site on the web, Diagram helped Pallas Textiles launch their new, accessible-to-all website to the world.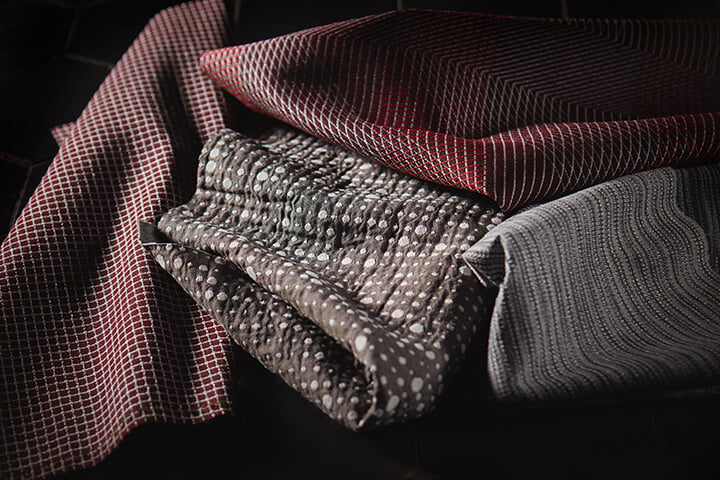 Challenge
Pallas Textiles asked to be the best textile website on the web.
Solution
Challenge accepted.
Background
Pallas Textiles, Inc. fuses the art of weaving with today's modern techniques and fibers into sophisticated, stylish and timeless upholsteries, panel fabrics and privacy curtains. Their primary focus is in the corporate, healthcare, higher education, and hospitality markets.
The Pallas Textiles site primarily serves architects and interior designers who come to the site to browse textiles. They seek visual inspiration, technical specifications, and samples for their client projects. The website is also used heavily by both the Pallas service team and independent sales representatives, using it as a resource for collecting information and samples on behalf of their clientele.
Field Research
During our multi-day, on-site discovery and research sessions with the Pallas team, we asked questions about how designers used the fabrics in their real work settings. These questions helped us understand when and where in their process designers would consider fabrics and what information they need to be successful. We also observed how designers found fabric specs and communicated those findings with their clients.
In the course of our research we discovered that some of the fabric's most important technical specs were buried inside a PDF which made it difficult for sales teams and independent sales personnel to access.
In addition, the website logic left many users with the impression that fabric samples were never available, even if that wasn't the case.
User-Centered Design
A key component of this project was to adequately display the richness and vibrance of the exquisite fabrics offered by Pallas. Each product page needed to convey the fine details of the fabric and present them in a clean, well organized, professional setting.
To address designer needs, we created an interactive design board where designers could save swatches and images, order fabric samples, and create and share boards for various projects. We made sure that fabric swatches were large enough where texture was immediately visible—no more "click to enlarge." We also focused on making the website search more prominent for designers who know exactly what they are looking for.
For sales teams, we knew that search was critical to helping them generate leads and sell more products. We integrated Vulcan and Elastic Search to create a search platform where efficiency was prioritized over functionality. We also added filtering abilities through a much needed "Browse Textiles" feature.

Additionally, we reorganized the website architecture based on our usability research findings, paper prototyping, and simulating how users would use the new Pallas Textile website.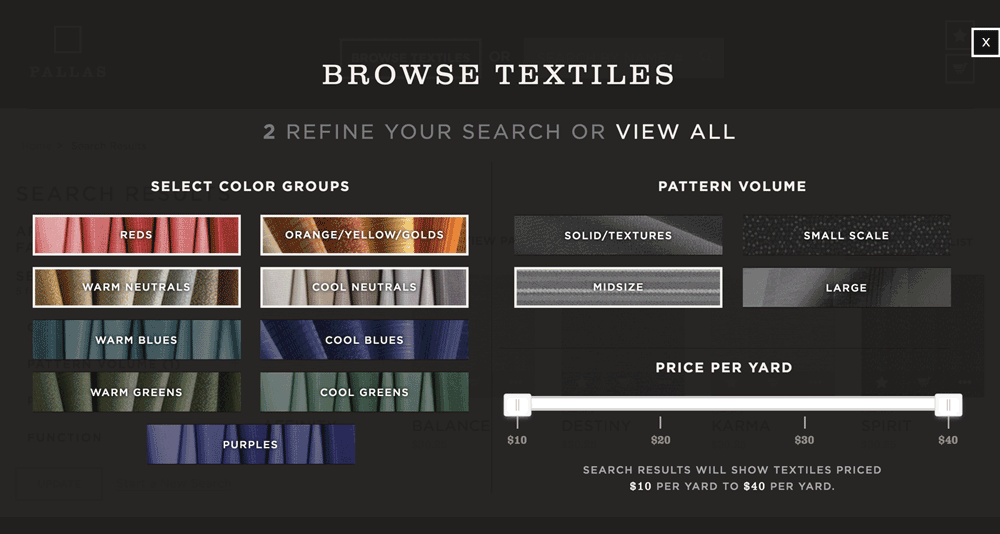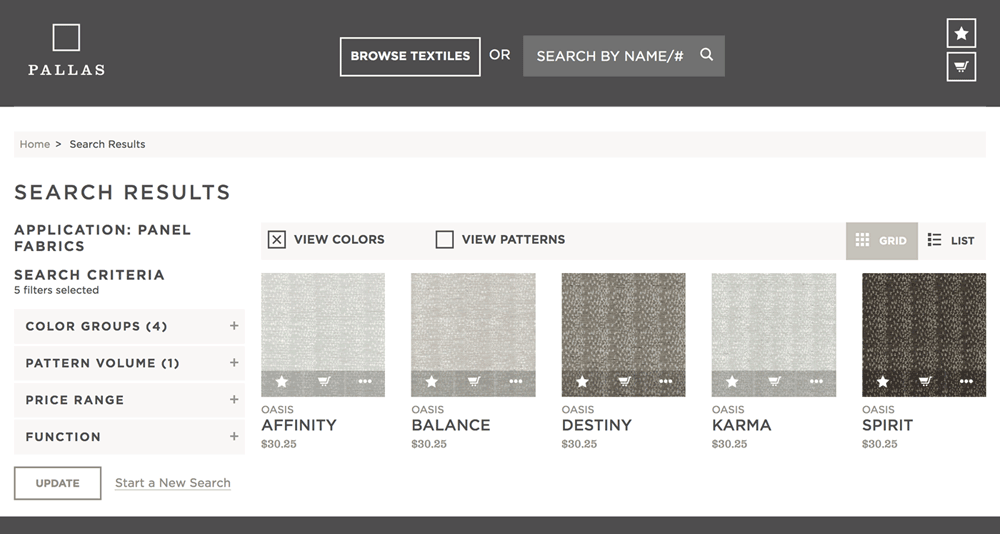 Architecting the Platform
Performance and stability issues were addressed by migrating the site from Ektron to the latest version of Episerver CMS. This phase encompassed:
Technical Architecture and implementation of the platform
Content migration planning and training
Performance optimization and hosting readiness planning
Pallas also required a variety of integrations with Episerver. These integrations include:
Widen DAM: Cloud-based digital asset management solution.
BPCS: An ERP that manages product data and processes orders.
Vulcan Elastic Search: Manages search data for the website.
Big Picture Machine: A tool that handles product picture renderings and fabrics overlays in real time.
Concurra: Website Optimization tool for analytics, heat mapping, split testing and goal tracking.
Results
While there's no award for "best textile website on the web", Pallas was honored to receive Episerver's North America Brand and Information Awareness award recognizing best-in-class excellence. Usage statistics also revealed big gains in several of the key performance indicators we set out to improve:
Increase in search for fabrics
Increase in avg. time on page
Decrease in avg. page download time
Project
Details
Services
Awards
2018 Episerver North America Brand and Information Website Award Winner