Shoup Manufacturing
Custom Middleware Application
Enriching product data for the ultimate online customer experience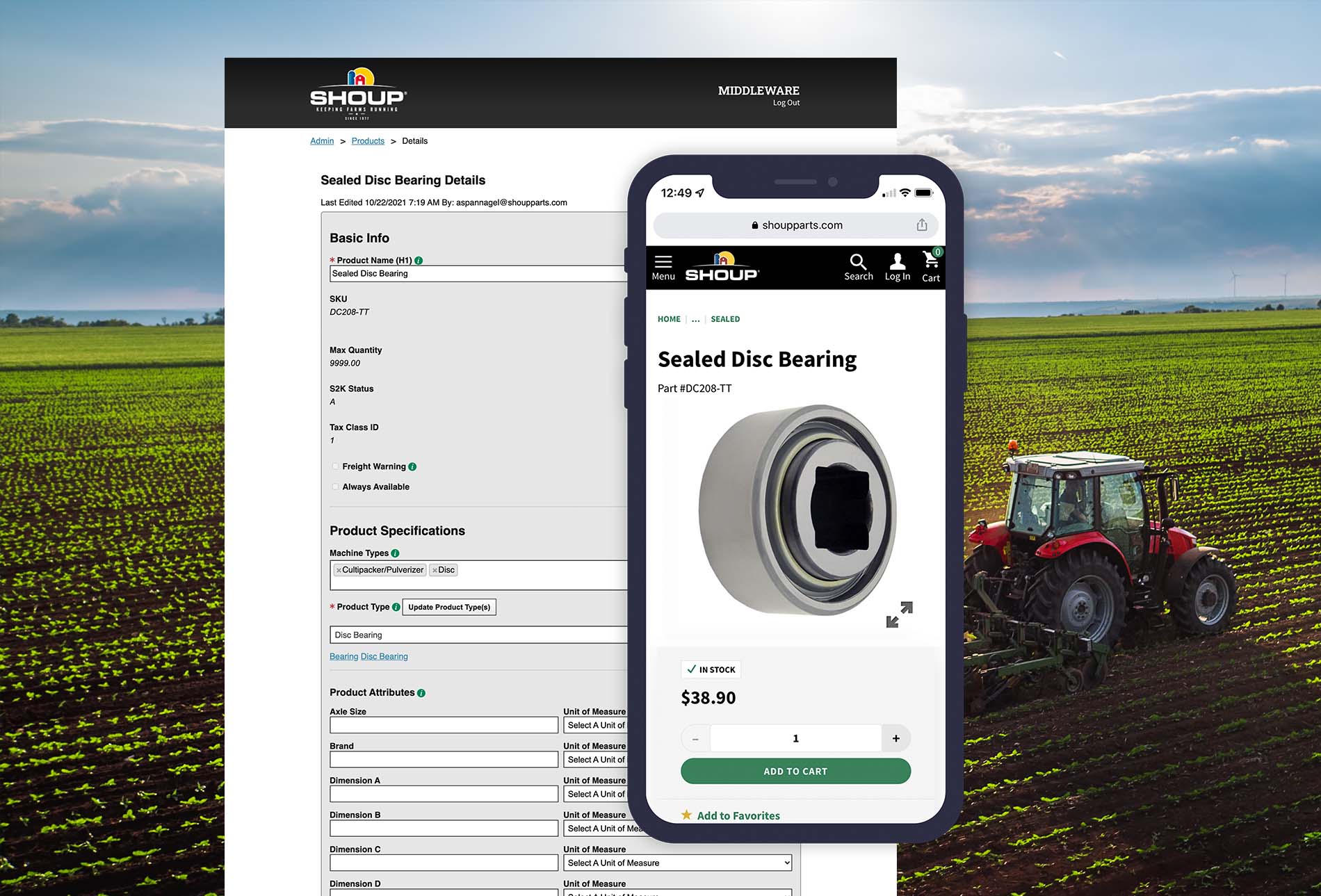 Background
In 1977, when Shoup Manufacturing was established, their product line consisted of a mere 50 products, which could easily be shared on a single flyer with farmers attending trade shows in the US. Today, Shoup's physical catalog includes a whopping 423 pages of meticulously curated products that account for over 14,000 items ready to be picked up or shipped to farmers located throughout the United States and Canada.
Over time, as Shoup scaled to accommodate this exponential growth, they introduced an Enterprise Resource Planning (ERP) platform to manage internal business processes related to accounting, procurement, and supply chain operations.
Concurrently, they expanded their digital reach by utilizing the website, email marketing, and social media platforms to further increase their customer base. When Shoup's ERP was integrated with the website, new and exciting challenges were introduced; Shoup looked to their Diagram team to elevate their online product experiences to better serve their expanding list of digital customers.

Challenge
As with any product-based website, having the ability to surface robust and relevant product information is the key to offering a successful online customer experience.
Shoup's customers were no different. The major challenges that the Diagram team was tasked with solving were:
How do we allow the Shoup team to enrich their product data in a scalable way?
How do we transport that information to the website in a transitional way (not an all-or-nothing approach)?
How do we use the enriched data to bring value to Shoup's customers related to:

Website Search
Product Browsing
Product Details
Product Machine Fit
Organic Search
Lastly, how do we do all of this without breaking the backs of the team members at Shoup who spend their days supporting their customers?

Solution
It was clear that we could not solve all the aforementioned items at one time. So, the Diagram team created a multi-year roadmap to bring alignment across the organizations and set the foundation for the successful rollout of several new website features.
The first step in the process was to create a custom middleware application that could be used to integrate with Shoup's ERP system and allow for the enrichment of product data in a scalable way. This process included:
Interviewing the subject matter experts at Shoup to determine what features and functionality needed to be available within the system.
Development of multiple middleware prototypes to ensure alignment with the Shoup and Diagram teams.
The creation of a custom middleware application which included a variety of complex features and workflows.
The connection of the custom middleware application with the Episerver (Optimizely) e-commerce platform.
Customer training.

Results
As of today, the Shoup team has imported and enriched over 10,000 products within the custom middleware application.
These enriched products are helping customers make informed buying decisions on which products are right for their equipment every day, not to mention helping to reduce the call volume for Shoup's customer service team. The challenging work performed by both the Shoup and Diagram teams over the past year has paved the way for several exciting customer-centric website features that will be released in early 2022.