Krueger International (KI)
Microsite Case Study
Partnering to create a microsite solution to share code with European division website.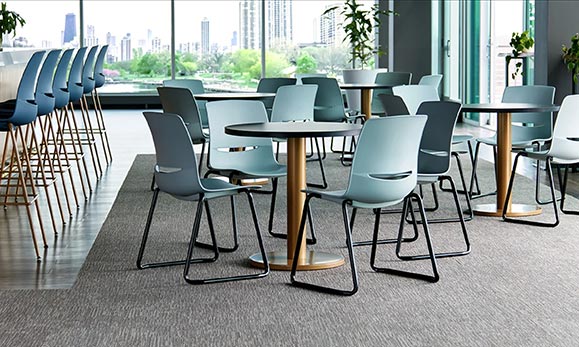 Background
In 1994 KI expanded into the EMEA (Europe, the Middle East, and Africa) region with local design and manufacturing in the UK and Europe. Because product offerings differ by region, KI Europe needed its own version of ki.com.
Given their parent division KI's recent migration to Optimizely, KI Europe wanted to ensure that they could stay on par with their US counterparts as they continue to improve and evolve their digital technology.
KI Europe needed a website solution that would both align with the KI global brand and allow them flexibility to feature a distinct set of products, features, and resources for their region.
Considerations
While there is some overlap, featured products and product data showcased would be distinct between KI and KI Europe.
KI Europe does not have a connection to the KI custom middleware, so it needs to rely more heavily on CMS content.
KI Europe will need to maintain the connection to the custom DAM integration to Widen, with specific rules for retrieving and displaying assets for EMEA products.
Solution
Diagram implemented a microsite system to allow KI Europe to share code with KI.com. The shared code base means that when new code is deployed to pre-production and production, it is applied to both KI and KI Europe, and content for both domains is managed in a shared work area.
Shared Page & Block Types
By default, all the page and block types on KI.com are shared with KI Europe. Access rights are used to hide unnecessary page/block types from editors as needed. Other than hidden pages/blocks all other types can be created and used interchangeably.
Access Rights
When logged in, all users will see two root homepages, one for KI and one for KI Europe. Based on your user permissions, one of the sites may be grayed out with a lock icon indicating that you cannot make any changes.

Site Settings
Custom site settings are configured to manage global elements that are or are not shared between domains, such as placeholder images.
Results
Improved User Experience
KI Europe now offers a more intuitive and robust customer experience, benefitting immediately from the improvements developed on KI.com in recent years, including the new Design Resources section, which provides an "interactive toolbox" for designers.
Image Library
Document Library
CAD/Revit Library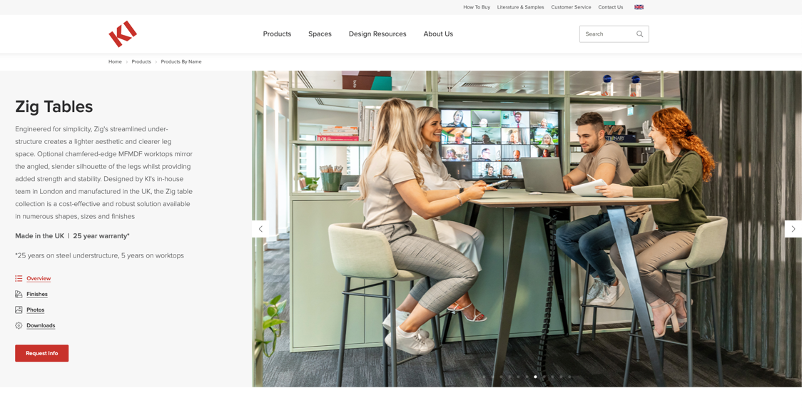 Improved Collaboration
Teams located at global headquarters in the US and UK can collaborate in real-time, expanding the capacity of its content management team.
Reduced Expense
As KI US develops new tools and functionality, KI Europe inherits the majority of that functionality, like the new and improved Product Page, which allows users to browse, compare, and export product options directly on the page.
Maintenance upgrades and bug fixes only need to be implemented once on the shared code base, eliminating the need for duplicate effort or triage.
Increased Traffic & Visibility
Since the new site launched in 2020, KI Europe has seen a +259% increase in organic traffic and an +85% improvement in domain authority. (Source: Semrush Rank)
Increase in Organic Traffic
Improvement in Domain Authority