Krueger International (KI)
Partnership Overview
What started as a 30-day CMS migration has blossomed into a fulfilling partnership of platform management, digital marketing, strategic guidance, and so much more.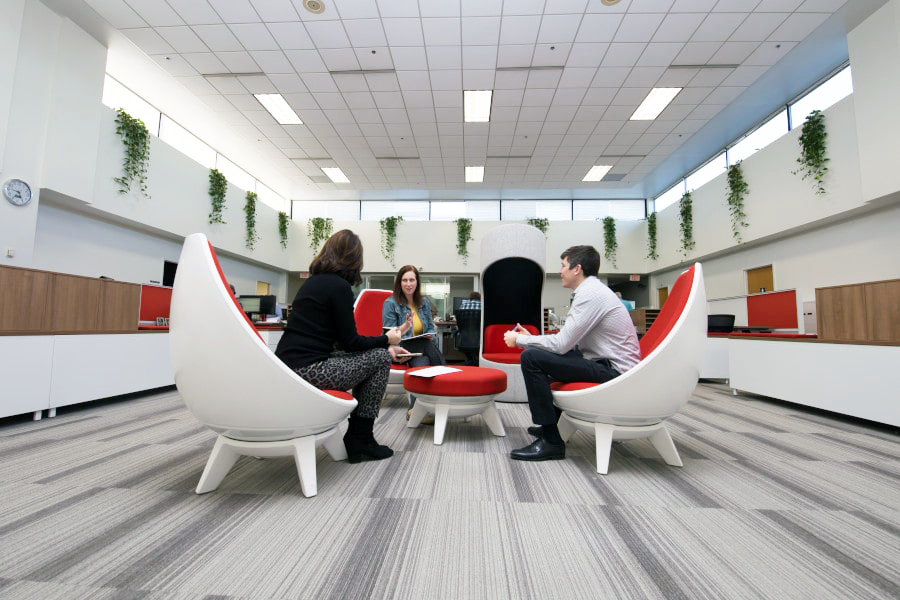 Background
KI, a contract furniture company, manufactures innovative furniture and movable wall system solutions for educational, university, workplace, and government markets.
They differentiate themselves in the global marketplace by personalizing products and service solutions to each customer's specific needs through their unique design and "Market of One" manufacturing philosophy.

A Client-First Approach
KI believes that knowing their customers will help serve them better.
They listen. They observe. They understand that each customer has unique needs. At Diagram, we couldn't agree more. From the beginning of our partnership over 10 years ago, we have made it our mission to understand KI's customers, competitive marketplace, manufacturing process, data systems, and culture.
Over the course of our partnership, we have taken the time to get to know the individuals and processes that drive KI's business, including marketing, sales, IT, manufacturing, human resources, technology partners, designers, and customers. With a shared vision, we continually offer strategic solutions that improve and expand KI's global digital footprint.

Growing Together
KI initially approached Diagram because they were struggling to launch their site on a new Content Management System (CMS) platform.
Their site had significant performance issues and they needed to go live in less than 30 days. Diagram accepted the challenge, reworked the entire code base to streamline data flows, improved speed, and met the critical go-live date.
Our philosophy has been the same since that initial project: We do whatever it takes to help KI achieve its business goals. Over the years, this relationship has grown and expanded to include platform migrations, microsite systems, SEO/SEM, digital marketing, and more. As an extension of the KI technical and marketing teams, we provide both strategic guidance and daily support on all digital initiatives.

Roadmap for Digital Acceleration
Like plenty of organizations, KI faced many digital challenges due to legacy data systems and an outdated technology stack.
Recognizing that change does not happen quickly, Diagram has partnered with KI to architect and implement a multi-year strategic and technical roadmap to move their digital programs forward including:
Two Platform Migrations
Zero downtime and zero negative SEO impact
Microsite System with Global Properties
Custom Middleware Application
For management of product data
Custom Digital Asset Management
Custom integration for Digital Asset Management (DAM) system
3D Rendering Support
UI/UX support for 3D rendering application(s)
Unification of Web Platforms
Onto Optimizely/Episerver DXP
Unification of Web Hosting Infrastructure
User Research, Analytics, and Monthly Reporting
SEM Strategy and Management
Including organic search (SEO), paid advertising (PPC), and optimization (CRO)
Paid and Organic Social Strategy
Training and Curated Workshops
You simplify all the complicated stuff; you keep us on track and have helped move our whole web program ahead in amazing ways. We're so grateful to have you as a partner.

Angela Koltz

Integrated Marketing Communications Manager, KI
Read more about our successes with Krueger International: