There is a wide range of Marketing Automation Platforms out on the market today. Today, we are going to look at two of the top platforms; HubSpot and Pardot.
There is a wide range of Marketing Automation Platforms (MAPs) out on the market today that can help accelerate your business onto the fast track for marketing success. All platforms offer their own feature sets that can help you accomplish your marketing focused goals. Today, we are going to focus on two of the top platforms on the market, HubSpot, and Pardot (by Salesforce).
Contacts + Feature Set = Price
MAP systems usually establish their pricing based on two methods that are very similar.
Method 1:
Number of Contacts + Number of Features = Plan Price
or

Method 2:
Set Number of Contacts + Number of Features = Plan Price
Let's start with looking at what defines a contact and a feature. A contact is a person that is added to your MAP system in one of multiple ways, such as:
Manually added to the system
Filling out a form on your site
Imported from a spreadsheet
Added through an integration with your email system
While a Feature is one of the many moving pieces the platform has to offer, like sending emails, creating landing pages, reporting and so on. Ultimately the deciding factor in which MAP is best for your business comes down to the size of your business and the features you need.
For businesses just getting into marketing automation, HubSpot is a perfect fit as they offer lower-tier pricing options such as their Basic Plan for $200/month. While this plan technically doesn't offer the "marketing automation" feature, which is their "Workflows" feature, this plan still provides you with all the tools you need in order to begin your journey into marketing automation.
For businesses familiar with marketing automation and looking to decide between platforms, we recommended starting looking more at the finer details and measuring your contact database size and platform feature needs. Both platforms offer multiple plans and an overview of those plans are listed below. I have excluded some of HubSpot's lower-tiered plans that do not include automation (workflows) in order to give a better comparison.
HubSpot Plans
Professional:
Base Price: $800/month (billed annually)
Base Contacts: 1,000
Additional Contacts: $50 / 1,000 contacts / month up to 45,000 contacts
Enterprise:
Base Price: $2,400/month (billed annually)
Base Contacts: 10,000
Additional Contacts: $10 / 1,000 contacts / month up to 500,000
You can view all plan details offered by HubSpot by viewing their pricing page.
Pardot Plans
Starter Plan:
Base Price: $1,000/month (billed annually)
Base Contacts: 10,000
Pro Plan:
Base Price: $2,000/month (billed annually)
Base Contacts: 10,000
Enterprise Plan:
Base Price: $3,000/month (billed annually)
Base Contacts: 10,000
You can view all plan details offered by Pardot by viewing their pricing page.
We can't really tell you a clear winner when it comes to pricing, as this is a decision that a company would make when using their own factors to predict what is best for them.
However, having worked in both tools for clients and even doing a migration or two from one to another, we can provide some deeper insights into the workings of the systems and how well different features stack up to one another. So let's continue by going into our feature face-off.
The Template Designer Tool
HubSpot and Pardot both have a template designer tool that you can use for creating base designs that can be used over and over again when creating multiple emails/landing pages.
HubSpot "Design Manager"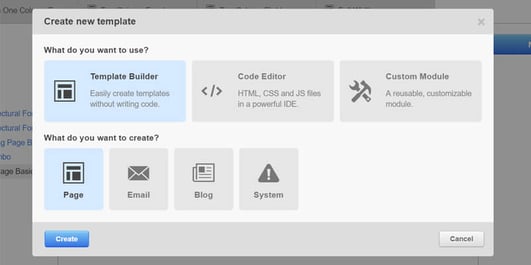 HubSpot offers a designer tool that is great for users of any technological savvy. For non-design/developers, HubSpot has a nice user intuitive drag-and-drop template system that allows you to create a variety of template types for both email and landing pages. This drag-and-drop system also comes complete with pre-made modules for everything from Content Sliders to Call-to-Action Buttons and even creating your own custom module.
HubSpot also gives you the ability to completely code your own template from scratch and provides extensive documentation on their HubL coding language which can be used to create complex designs and content such as custom fields for users to enter content into when creating a landing page/email.
Pardot "Layout Templates" and "Email Templates"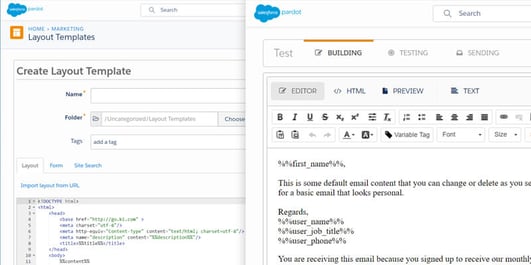 Unlike HubSpot where there is one central area to edit all templates, Pardot provides two separate areas for each template type. Each area has its own set of options that pertain to the template you are building.
With email templates, Pardot provides over 40 pre-made template layouts that you can choose from as a starter template or you can simply skip this and create your own from scratch. Upon selecting one of the premade templates, Pardot automatically populates the code in the "HTML Tab" for the email in the next step as well as provides an "Editor Tab" for you to use to design the email from a visual standpoint. If you choose to create your own, Pardot provides you with some starter text in a simple template that you can then build upon.
When creating your own template, you can use attributes that have been defined by Pardot to help provide users with the ability to modify, duplicate, or remove content. These attributes are added to the code. You can find these attributes and examples by checking out this section inside the SalesForce Trailblaze Community.
Unlike the email templates, layout template creation requires you to know your way around HTML and CSS. When creating a landing page in general (not a template) you have the option of choosing from pre-made stock templates or creating your own drag and drop style from scratch. Unfortunately, these templates are not responsive by default. Like email templates, layout templates also have tags (both variable and region) and they can be used to help build flexible pages for end users. One major drawback of using the Pardot's Layout templates is that externally linked CSS styles do not populate inside the landing page editor so when your end user is creating their landing pages, they may not appear correctly in the editor. However, using the preview link will help to correctly visualize your landing page.
Winner: HubSpot
Our Reasoning: HubSpot's Design Manager allows individuals of any skill level to quickly build a responsive landing page using their predefined modules while keeping everything in one design manager.
File Management/Content Management
When it comes to managing your image and document files, HubSpot again takes a more visual approach to their File Manager. The file manager allows the ability for you to create a folder structure, upload files, and preview thumbnails all from one clean interface.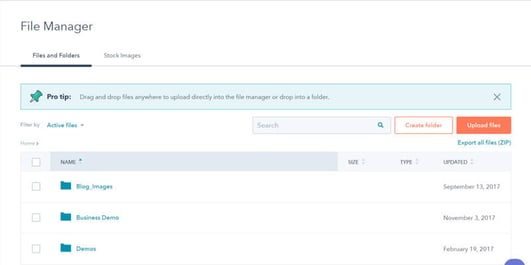 Pardot's Content Management differs as its more of a data style listing. While Pardot's content manager does offer the ability to create folders and preview images, folders are created in a different area and you need to click on the file in order to preview the image.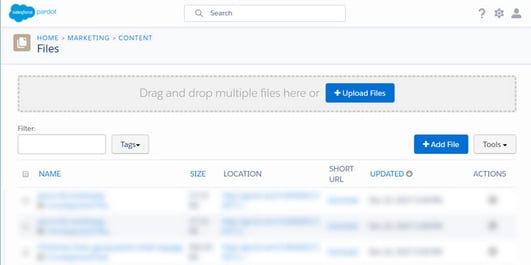 Winner: HubSpot
Our Reasoning: While Pardot's file manager offers the same abilities as HubSpot's, Hubspot's easy to use UI, ability to see preview images, and creating folders all in one interface makes it much easier to manage your content.
Contact Management
We'll keep this comparison section short as both HubSpot and Pardot have a great contact management system. Both systems offer a clean interface to browse through your contacts and view different information about them. The only difference in the systems is that Pardot has a tabbed interface for the different sections and HubSpot's contact information is all listed on the same page with cards for each section and the ability to toggle on/off the information you don't want to see.
Winner: Tie
Our Reasoning: While both offer the same thing, Pardot's tabbed interface makes it easy to focus on just the area of information you are looking for which is the same as HubSpot allowing you toggle off what you don't want to see.
Smart/Dynamic Content
Smart Content (also referred to as Dynamic Content) is the ability to change your content for a user based on certain attributes or characteristics you have compiled on them. For example, you can change the text in a paragraph specifically for users that are considered "prospects" in your system while all other users who are "accounts" will see a completely different paragraph.
Both of these platforms allow for this type of content. The difference comes in when and where you're using this content. HubSpot allows you to set the Smart Content while you're building your page/email while with Pardot, you have to create this content in a separate area and embed it into the page/email.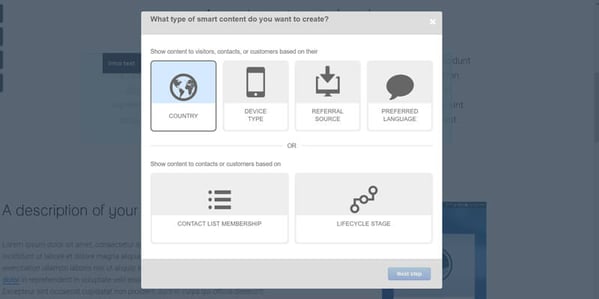 Unlike HubSpot, Pardot gives you much more flexibility in the dynamic content you can create with an email and lets you choose from all of the customer attributes. HubSpot only lets you choose between list membership and life cycle stage when using smart content in an email.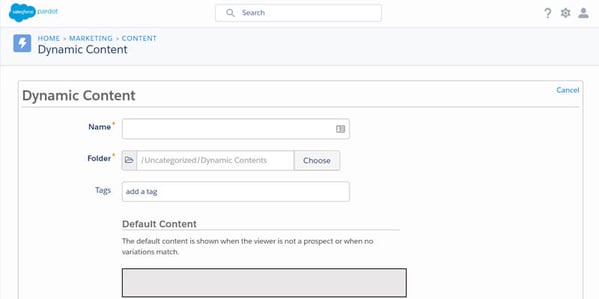 Winner: Tie
Our Reasoning: While Hubspot lets you create your smart content without having to travel to multiple areas, Pardot's extensibility with smart content in email evens the playing field.
Forms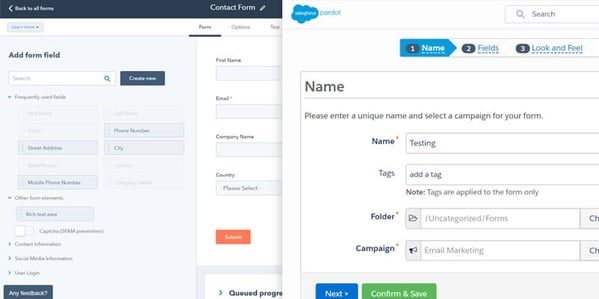 Forms are an essential part of any marketing automation platform and both systems provide you with the ability to create forms easily. One thing that Pardot has over HubSpot is the ability to modify the source code of the form and change the markup surrounding it (along with minimal markup of the placeholders for label and input; this is achieved in the "Layout Templates" area). On the reverse, HubSpot's "Basic" plan when compared to Pardot's "Standard" plan allow for unlimited forms (HubSpot) compared to a max of 50 forms (Pardot).
Winner: Pardot
Our Reasoning: Pardot lets you customize (although limited) your HTML for your form labels/inputs.
Landing Pages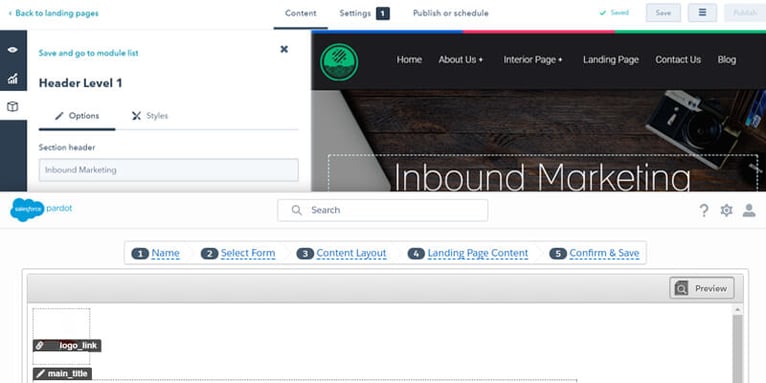 Just as forms are essential landing pages are as well. You could say that forms, landing pages, and automation are the peanut butter, jelly, and bread, respectively, of the MAP system.
Both platforms offer the ability to create landing pages, however, just like we mentioned in layout templates, both offer an "editor" interface where you can make changes as needed form a visual perspective. When editing these pages, HubSpot's editor appears to have the advantage as you can create complex pages with their prebuilt modules (such as sliders and image galleries which are not offered by Pardot). Likewise, HubSpot's editor does show the content in a true form unlike Pardot's which will not render 3rd party hosted CSS well.
Another limitation of Pardot comes with their "Standard" plan. Much like forms, you are limited to only 50 whereas HubSpot's "Basic" plan provides unlimited.
Winner: HubSpot
Our Reasoning: Being able to fully render all of the CSS as well as the additional prebuilt modules and drag and drop responsive templating gives HubSpot the main edge.
Integrations
An integration simply put can help connect your systems together to transfer data between them. For example, both Pardot and HubSpot can be integrated into SalesForce's main CRM application.
Each system has multiple integrations that it can connect with. We won't be listing them all here, however, below are the links to the integration directories for each application respectively.
Winner: HubSpot
Our Reasoning: About 93 reasons. Just kidding, but in all seriousness, the ability to integrate into many systems and vice versa makes HubSpot an attractive platform.
Redirects
HubSpot and Pardot both offer the ability to create redirects in their platforms although these redirects are a bit different for each system. For HubSpot, redirects can be created through their COS URL Mappings or through expiring pages via the advanced settings in the page editor and entering a redirect URL location.
Pardot's Redirects are more like tracked links in that you can use this for links on your site and then when that link is visited, it will redirect the user as configured. The only issue that Pardot seems to have is you cannot expire a landing page and redirect like you can inside of HubSpot.
Winner: HubSpot
Our Reasoning: While both platforms give you the ability to create redirects, being able to redirect old landing pages right inside of the editor (without needing to take extra steps) is a huge benefit.
Multi-variant (A/B Variant) Testing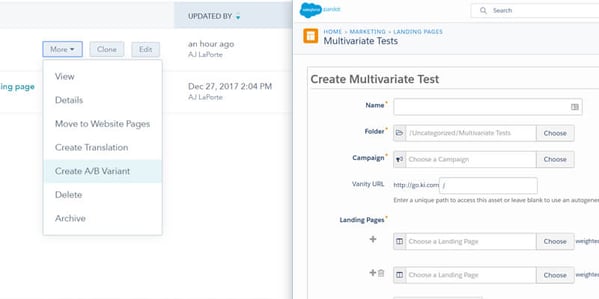 Just like forms are essential to MAP platforms, so is testing. Testing, in general, is essential to any website in order to continuously make improvements and keep your site focused on your goals. Hubspot and Pardot both offer this feature in their services, but they are used differently. For Hubspot, you can simply create an A/B variant test on any landing page from the main landing page dashboard. With Pardot, you have to create the landing pages first, then go into another area in order to create your multivariate test and select your already built pages.
Winner: HubSpot
Our Reasoning: While both platforms allow you to create multi-variate tests easily, HubSpot has one leg up by having this option be listed in the same area as the landing pages and not in a different area.
So who takes the crown in our showdown?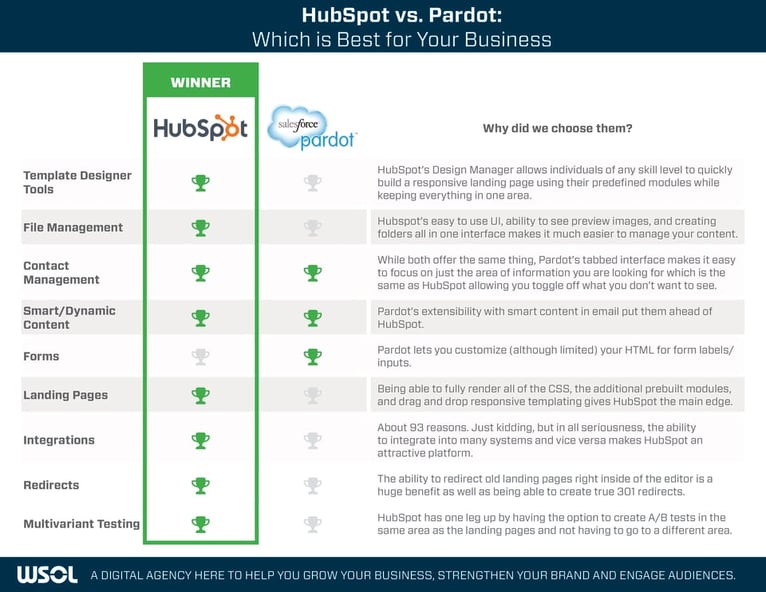 While both platforms can help a business accomplish its marketing automation goals, we feel that HubSpot is the better product. Not only does HubSpot have a more polished finish to it making it user friendly, it also takes fewer steps for end users to complete their content creation goals.
Which Marketing Automation Platform is your company using? Need help in moving to another automation platform? Have questions on HubSpot or Pardot? Reach out to us in the comments below.
Related Posts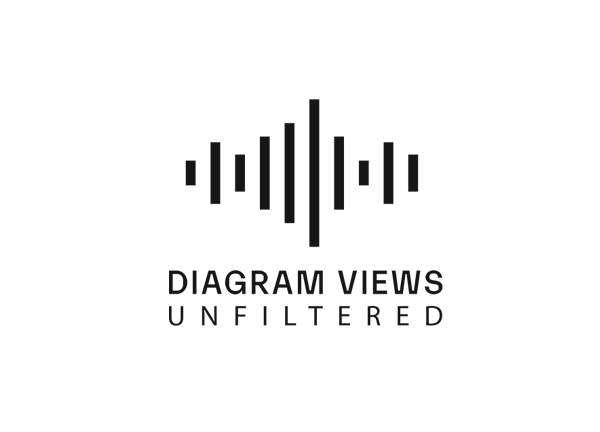 Diagram's Chris Osterhout shares three essential tips that your organization should consider when moving to another CMS platform.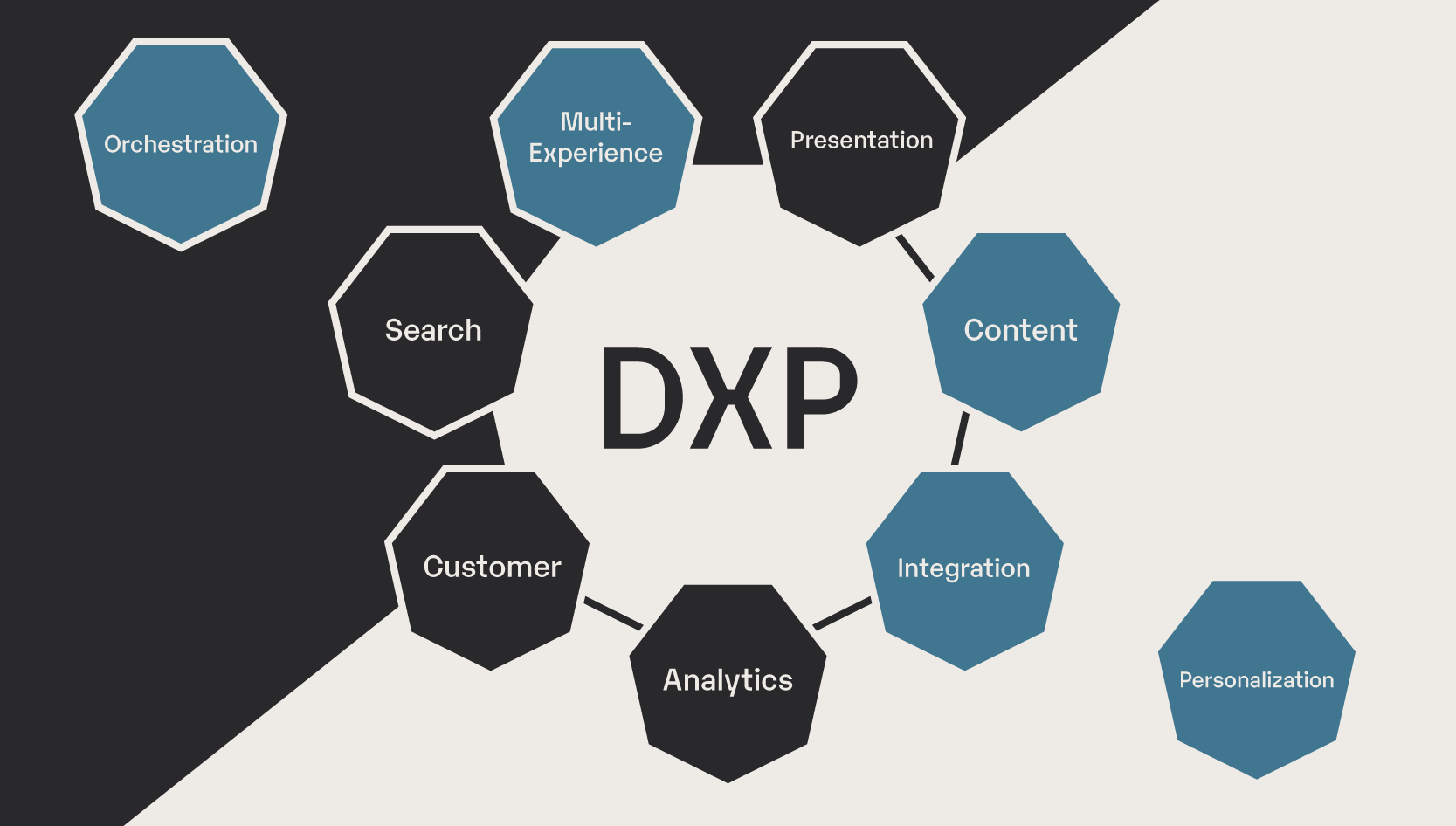 Composable, monolithic, headless... Choosing the best Digital Experience Platform requires an understanding of your unique needs and goals.
Results Matter.
We design creative digital solutions that grow your business, strengthen your brand and engage your audience. Our team blends creativity with insights, analytics and technology to deliver beauty, function, accessibility and most of all, ROI. Do you have a project you want to discuss?
Like what you read?
Subscribe to our blog "Diagram Views" for the latest trends in web design, inbound marketing and mobile strategy.